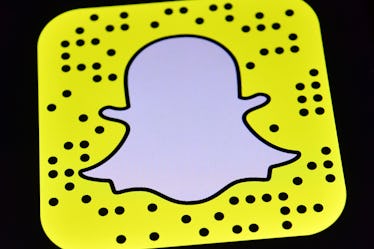 Snapchat's 2017 Memories Stories Are So Nostalgic & Twitter Is Sobbing
Carl Court/Getty Images News/Getty Images
Ugh, pass the tissues. With the end of the year coming faster than you might think, the tendency to give into nostalgia is growing stronger with each passing day. I mean, yes, by all accounts, 2017 was a dumpster fire, but it clearly wasn't all bad — especially given how much people are loving Snapchat's memories function. Even if you're eager to see this year to the door, these tweets about Snapchat's 2017 Memories will make you remember the good times, too.
Snapchat introduced personalized 2017 Stories on Wednesday, Dec. 27 using the Memories feature. Users can now look back on the good, the bad, and the drunky using all the photos and videos you saved to your memories function. And, far and away, people are loving it. Though, as always, there are contrarians and people who accidentally showed their dad a naughty picture.
It's ridiculously easy to find your story: just tap or swipe up on the Memories icon, which is below the capture button. Once you're in Memories, your story will be at the top of the "all" tab. So give into the nostalgia. Give in now, and look back at your 2017. And once you do look at all of your shaky videos and thottie selfies, take the time to nod along to all of these tweets, which are aaaall about the joy you get from this year-in-review function for the sloppiest, silliest form of social media.
Now, if you're ready to start reminiscing, take a journey among the geofilters and dancing hot dogs and puppy ears, and take in the fact that 2017 is finally, mercifully, at an end.
There's a lot of joy in looking back.
Look at where you've been, and where you are now. For many people on Twitter, the difference is immense and amazing.
While others are like, oh yeah, that happened. Snapchat: helping you remember your rough patches since 2011.
Some people are giving into the melancholy inherent in nostalgia.
You can't go back, but looking back doesn't seem to be helping matters for some people.
*whispers* give 2018 a chance, because it could be even better than 2017.
Others are, like, dude, Snapchat, no.
I mean, after all, one of Snapchat's best functions is sending nudes. Perhaps it's not the best idea in the world to memorialize that.
I mean, 2017 was kiiinda rough.
And some people are not exactly getting a ton of out it.
Others are doing some serious service journalism and teaching you how to find your 2017 story.
The good folks of Twitter are here to save the day.
Thank goodness for the selflessness of citizen journalism. It is truly the gift that keeps giving... people access to their 2017 stories.
And in case a simple heads-up isn't enough, here's some extra help. Elite Daily put together a handy how-to on everything from accessing your 2017 Story to how to edit it (because you can totally do that). So now, with our help, not only will you be able to look back on your year, you'll be able to tweak it so it's exactly the way you want to remember it. That means no more gross exes or former-best friends clouding your posi-vibes.
Jokes aside, no matter why you're enjoying your Story — whether it's working in place of your memory, thanks to black outs, or if you're just into the nostalgia, there's something wonderful about being able to look back at your past year. When you live only in your mind, it's hard to remember how much things can change in only a year. And sometimes, especially at the end of a rough year like 2017, it's important to look at your accomplishments, your moments of joy, you growth, and say, "yeah, I did that." And maybe it'll give you the strength to look at 2018 and say, "yeah, I can do that, too."
Happy New Year, y'all.