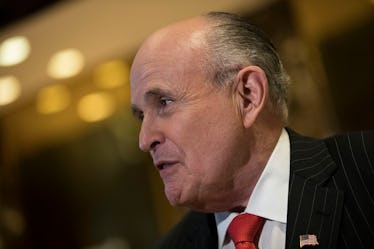 Rudy Giuliani Wants To Help Trump End The Russia Investigation & Twitter Is Skeptical
Drew Angerer/Getty Images News/Getty Images
Needless to say Donald Trump has been having some issues with his legal team lately. On April 19, reports surfaced that a certain former New York mayor would be joining Trump's legal team to help with the impending Russia investigation, but some are questioning whether that's the best idea. Check out these tweets about Rudy Giuliani and Robert Mueller and decide for yourself how you feel.
Trump's personal lawyer Jay Sekulow announced the news on April 19 through a public statement. "I am announcing today that former New York City Mayor and United States attorney for the Southern District of New York Rudy Giuliani is joining the President's personal legal team," Sekulow's statement said.
Giuliani actively supported Trump throughout his entire election campaign, but things might get complicated now that the former mayor has actually joined Trump's team. However, Giuliani reportedly has big plans to tackle the Special Counsel Robert Mueller drama, who is currently investigating Russia meddling in the 2016 presidential election. According to Giuliani, who spoke to CNN after the news broke, he and Mueller have worked together in the past in the Justice Department and plans to immediately get a "list" from Mueller of all that's needed in order to comply with the ongoing investigation. Giuliani has openly opposed to Trump firing Mueller, saying the move would be "counterproductive."
Giuliani may have some clear intentions joining Trump's team, but some people are a little bit skeptical about his plans.
Sekulow released a public statement on behalf of Giuliani, which expressed his excitement to be working with Trump's legal team. "It is an honor to be a part of such an important legal team, and I look forward to not only working with the President but with Jay, Ty [Cobb], and their colleagues," the statement said. Attorneys Jane Serene Raskin and Marty Raskin will also be joining the team.
In light of Giuliani joining Trump's legal team, he will be "taking a leave of absence" from his law firm Greenberg Traurig.
There's good reason why Giuliani joining Trump's legal team is raising some eyebrows. Giuliani's former law firm, Bracewell & Giuliani advised Cambridge Analytica, a political data firm Donald Trump's team used during the 2016 presidential election. The firm was controversial for obvious reasons, especially since The New York Times reported in March that Cambridge Analytica gained access to over 50 million Facebook users' private information. In addition, the firm offered tools that could identify American voters' personalities and possibly influence how they voted.
That's definitely not the kind of history a new legal team member wants under their belt, so we'll see how Giuliani deals with those skeletons in his closet.
Without a doubt Giuliani is a controversial figure, much like Trump himself. His sexist comments have made national headlines, such as when he said in 2016 that Hillary Clinton was "too stupid" to be president, and blamed her for Bill Clinton's indiscretions with Monica Lewinsky. Plus, during an interview with ABC News in October 2016, Giuliani claimed that Trump's "economic genius" makes him a more suitable candidate for president than a woman.
He said,
Don't you think a man who has this kind of economic genius is a lot better for the United States than a woman? And the only thing that she's ever produced is a lot of work for the FBI.
What a class act.
To be honest, Giuliani might have been Donald Trump's last hope. According to a March report from CNN, five prominent law firms turned down the opportunity to represent the president in order to assist with the Russia probe. So, clearly pickings are slim.
I can't wait to see how this all turns out.