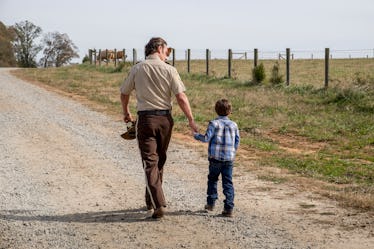 Rick's Flashback To Carl On 'TWD's Season Finale Is Giving Fans All The Feels
Gene Page/AMC
The Walking Dead fans have dealt with a lot of heartbreaking losses throughout the "All Out War" season. But I think we can all agree that the worst one of all was definitely Carl Grimes, who unfortunately left us during the midpoint of the season. But just because Carl's gone doesn't mean that he doesn't live on in the hearts of the characters and die-hard fans of this show — and tonight we got to see a little bit of what life was like when Carl was still in the world. And the tweets about Carl's flashback scene on The Walking Dead were making me feel all the feels.
Back in last week's episode, we got something of a comeback for Carl when we found out what he had written in his letters to his dad Rick Grimes and Negan, just before he passed away. He pleaded for the two to come together and find a way to make peace, but his letter to Rick was especially emotional. He discussed how he felt safe when he was younger, and called on his dad to make life apocalypse feel like that again. Carl wrote,
Show everyone that they can be safe again without killing. That it can feel safe again, that it can go back to birthdays and school and jobs, and even Friday night pizza somehow. And walks with a dad and a three-year-old holding hands. Make that come back, dad. And go on those walks with Judith — she'll remember that.
And in tonight's episode we learned that clearly this letter had an emotional impact on Rick, because he saw him thinking back to that time and going on walks with a little Carl.
And fans clearly could not keep their feels in check during this touching moment and let it all out.
And at the end of the episode, we got to find out that the memory of Carl inspired Rick's act of mercy. And it had fans in their feels all over again.
It was nice to see Carl back, even if it was just for a moment tonight on The Walking Dead's Season 8 finale. I know it might be too gut-wrenching for some of you to revisit Carl's departure from the show back in Episode 9, but his death was a truly pivotal moment in the progression of this series. We left off Carl in the midseason finale not knowing whether or not he would make it to the next episode or not. We learned that he had just been bitten by a zombie, and a lot of fans were hoping that Carl might be the first person that's immune.
But when the show returned on Feb. 25, the episode "Honor" confirmed that Carl was definitely not making it out alive. The goodbye to Carl's character in that episode definitely gave him the honor that he deserved, and that fans needed. At the start of that episode, we saw Carl working outside and looking like he was at peace with his unfortunate fate, as the song "At The Bottom Of Everything" by the band Bright Eyes played in the background. It was super emotional and I, for one, was having a hard time keeping it together at that point.
The entire episode from the outset on felt like a love letter to Carl's character and his important role on the show. Even though fans were reeling from that loss, we still got to see bits and pieces of Carl live on through the rest of the season — like when Rick finally read the letter Carl left him just before he passed away. Carl really wanted his dad to somehow figure out a way to end the war he's been fighting with Negan. Carl wrote,
You have to give them the way out, you have to find peace with Negan. Find a way for it somehow. We don't have to forget what happened, but you can make it so that it won't happen again. That nobody has to live this way. That every life is worth something. Start everything over.
But I have a feeling that ultimately, things won't turn out the way that Carl wished they would. This war may have come to an end, but that doesn't mean we're done with the drama.