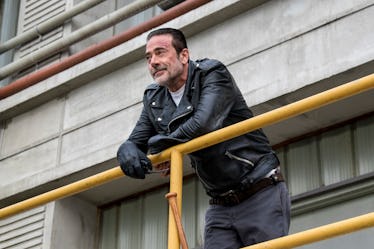 The Final Battle Is Coming On 'The Walking Dead's Season 8 Finale & I'm So Pumped
Gene Page/AMC
The Walking Dead promised fans an "All Out War" for Season 8. And even though not every episode has been as bloody and gruesome as that tagline for the season may suggest, the war between Rick Grimes and Negan has definitely been ramping up. The tension between the two makes this a true "All Out War," and from the looks of the promo things are really going to kick into high gear next week. The Walking Dead Season 8 finale promo has me literally jumping out of my seat — and I don't know if I'll be able to handle what that episode will bring.
There's officially only one episode left in Season 8, and from the looks of this promo it surely will not be a disappointing finale. This season hasn't exactly been the "All Out War" that was promised from the onset. But it looks like that is about to drastically change, and the finale promo is here to prove it.
The "All Out War" season is coming to an end next week, and the show runners are definitely gonna bring the heat. In the promo we saw Negan and Rick both prepping to go to battle against each other. It looks like Rick has left the Hilltop and is preparing an attack on the Sanctuary with his army. Negan is seen practicing his shooting skills with a "Rick" labeled dummy. Things are getting serious people! It's about to go down.
A lot of stuff went down in tonight's second-to-last episode of this show. We saw some significant deaths, some new information about Negan's plans to attack the Alexandrians and execute them all, and some super heavy emotional moments involving Carl from beyond the grave (RIP, I'm still not over that one). But the overall takeaway that I personally got from this episode is that nobody is messing around anymore — this war needs to end and it will end sooner rather than later.
The tension between Negan and Rick has been bubbling for almost three seasons now, and things have only been getting worse. The only thing that these two seemingly had in common was their affection towards Carl. Carl is Rick's son, so of course he loves him. But Negan uncharacteristically had some sort of empathy for Carl. He was actually nice to the kid. They shared a bond strong enough to warrant Carl writing Negan a letter on his deathbed. He was important enough to Carl for him to be one of the handful of people that he wrote letters to, which included his dad and Michonne.
Speaking of those letters, tonight we learned exactly what those letters to Rick and Negan both said. In Carl's letter to his father he wrote,
You have to give them the way out, you have to find peace with Negan. Find a way for it somehow. We don't have to forget what happened, but you can make it so that it won't happen again. That nobody has to live this way. That every life is worth something. Start everything over. Show everyone that they can be safe again without killing.
And in Negan's letter Carl said,
Maybe you'll beat us, and if you do they'll just be someone else to fight. The way out is working together. It's forgiveness. It's believing that it doesn't have to be a fight anymore, because it doesn't.
But as we saw with Rick back in Episode 10 of this season, neither of these two are going to end their war. In that episode, Rick informed Negan that Carl had died and that we wrote them both letters, urging them to stop their fighting and bring peace. But Rick said, "It's too late for that," adding that he will make sure that Negan dies. And in tonight's episode, after Michonne reads Negan Carl's letter over the radio, Negan basically says the same thing. He declares,
There is no getting out of it now. I wouldn't accept your surrender if you came to me on your knees. See winning isn't about beating you. Winning is about killing every last one of you.
Not even with Carl pleading to these two to stop the madness can end what was started between Rick and Negan. They will definitely be going to battle in the season finale next week, and I'm not so sure I'll be able to keep it together when it happens.