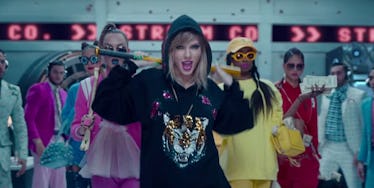 Fans Are Seriously Pissed 'Reputation' Isn't Streaming Yet & We Can't Blame Them
Youtube
Taylor Swift's reputation for feuding with streaming services is driving some fans crazy. The singer just dropped her highly-anticipated sixth studio album, Reputation, but unlike most new releases, it is not available on any streaming services at the moment. Nope — if you want to hear it, you are going to have to pay $13.99 on iTunes for it. Of course, not a lot of people are happy about that. Music fans are pissed to find out that Taylor Swift's Reputation is not on Spotify, but thankfully, the album will be streaming soon enough.
For most people who have been following Taylor Swift for the past few years, it comes as no surprise that she would keep her new album off of streaming services. When Swift released her last album 1989 back in 2014, she kept it off Spotify for nearly 3 years, until finally putting it up this summer. She accompanied that release with an essay in the Wall Street Journal, in which she argued that music should not be free. It became another one of the many public controversies to surround Swift in recent years, and one that she pointedly referenced in the music video for Reputation's lead single, "Look What You Made Me Do," which features her breaking into the clear Spotify stand-in, Stream Co., to take all its money.
It wasn't until this past June that Swift seemed to change her tune on Spotify, when she finally made 1989 available on the streaming service, along with re-releasing her whole back catalogue after having removed it around the time of 1989's release. Swift never commented on that decision, so it was hard to ascertain whether Swift had changed her thoughts on the validity of streaming music or she had ulterior motives for finally making her music streamable. Pretty much everyone paying attention noticed that the timing was suspect, since Swift made her music available to stream the exact same day that her noted rival Katy Perry was releasing her new album Witness.
Fast forward to where we are now, and it looks like Swift is still not Spotify's biggest fan... although it's not as bad as before. Though Reputation isn't available to stream on Spotify or Apple Music upon its release, Swift's team has clarified that the album will be up on Spotify one week after it's release. That's not too bad, but it's still ruffling feathers among her fans, who were hoping they wouldn't have to wait another week to finally stream Reputation without paying on iTunes.
Check out some of the fan responses to Reputation not being available to stream for free on Spotify:
Although Taylor Swift's decision to keep Reputation off of streaming services has clearly created frustration among her fans, it has proven to be a lucrative and record-breaking one for the singer. Very quickly after its midnight release, Reputation became the fastest album to rise to number one on the U.S. charts. Obviously, the fact that the album was only made available for purchase on iTunes was a huge help in that feat.
But despite all of Swift's efforts to keep Reputation an iTunes-exclusive album for its first week of release, the album leaked online the day before it dropped. It created a divide among music fans, as loyal Swifties vowed to stay away from the leak and either pay for the album, or wait for it to drop on Spotify next week. However, fans who were more frustrated with the album not being available for free legally have decided to hop on the leak to hear the new songs without paying iTunes.
Honestly everyone... If you can't pay the 14 bucks for Reputation, then just wait a week for it to drop on Spotify. Seven days isn't that long.