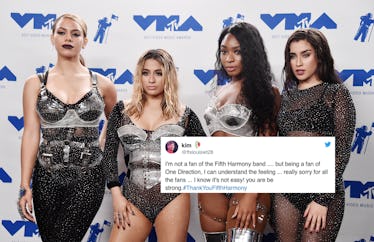 One Direction Fans Are Tweeting Support For Fifth Harmony Fans & It's So, So Sweet
Fifth Harmony is officially done. The group announced on Twitter on Monday, March 19, that they're going on a hiatus "in order to pursue solo endeavors," aka they're most likely breaking up for good. While the statement hints the girls could one day get back together, fans don't think it's likely, seeing as One Direction implied the same exact thing when they went on their "hiatus" in March of 2016. Fast forward two years, and they're still not back together. Now, 1Ders are showing support for Harmonizers after the group's announcement, and the tweets about One Direction and Fifth Harmony show not only the parallels between the groups' respective breakups, but also how the fans are coming together to support each other following Monday's announcement.
Fifth Harmony announced their split on Monday, March 19, in a statement on Twitter that started with, "Reflecting on the past six years since we started on X-Factor, we've realized just how far we've come and we appreciate everything so much, more now than ever." It continues,
After six years going hard, non-stop, we also realized that in order to stay authentic to ourselves and to you, we do need to take some time for now to go on a hiatus from Fifth Harmony in order to pursue solo endeavors. We are all very excited and grateful to be able to take this time to learn and grow creatively and really find our footing as individuals. In doing this we are allowing ourselves to gain new experiences, strengths and perspectives that we can bring back to our Fifth Harmony family.
Some people on Twitter can't get over how weirdly similar One Direction and Fifth Harmony's circumstances are.
Think about it: Both of the groups were created through a reality singing show, both of the groups' managers was Simon Cowell, one of their members left the group, and less than a year after that, the groups announced a hiatus. Both of the groups were also together for six years (with and without the members who left) before announcing their respective splits. The circumstances are strangely similar.
Some are already guessing neither of the groups will ever get back together.
Others are just tweeting their support for Harmonizers because they know how upsetting the circumstances are.
When Zayn Malik announced he was leaving One Direction in 2015, the remaining members of the group released a joint statement that read,
We're really sad to see Zayn go, but we totally 
respect his decision and send him all our love for the future. The past five years have been beyond amazing, we've gone through so much together, so we will always be friends. The four of us will now continue. We're looking forward to recording the new album and seeing all the fans on the next stage of the world tour.
That was on March 25, 2015. On Aug. 23, 2015, One Direction announced they were going on an "extended hiatus" starting in March of 2016. A source told E! News at the time, "They are taking a hiatus so they can work on individual projects for a while but they are not splitting up. They will remain together and plan to work together in the future." Even though the source said "they are not splitting up," the group has yet to get back together and shows no signs of planning to do so. They're all hitting the ground running with their solo careers.
This sounds a lot like Fifth Harmony's statement announcing their hiatus, but there are some differences. Where the source talking about One Direction flat-out said the hiatus would eventually be over, Fifth Harmony's statement didn't promise as much. They did use the "hiatus" term, but the only thing they flat-out promised in their statement was the fact that they will commit to the rest of the performances they have scheduled for 2018. Let's just hope that actually happens.