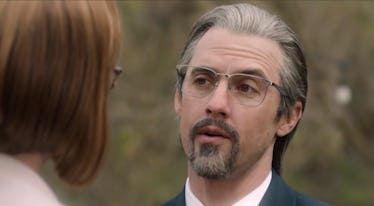 'This Is Us' Fans On Twitter Aren't OK After The First Scene In The Season 2 Finale
NBC
This Is Us gave its fans a bittersweet glimpse at what the present could have looked like on Tuesday night's Season 2 finale. The big episode concluded the family drama's second season with the show's trademark emotional moments, a heartwarming wedding, and more gasp-worthy cliffhangers in the final few minutes than anyone was expecting. But among all those twists was the real heart-tugging moment of the episode: seeing Jack Pearson as an old man. Fans couldn't contain their emotions, and tweets about old Jack on the This Is Us Season 2 finale quickly took over social media, filling Twitter with with all sorts of heart-bursting feels. Spoiler alert: Don't keep reading if you have not watched the This Is Us Season 2 finale "The Wedding" yet.
Last week, This Is Us first showed fans a shot of Jack Pearson with glasses and graying air in the promo for the Season 2 finale. The shot caused pandemonium among viewers, some of whom even began to theorize there might be some way that Jack could still be alive... even though we all saw him die from the aftermath of a house fire earlier this season. Of course, those wild theories were proven false in when the new episode aired. Actually, the various shots of Jack and Rebecca's 40th wedding anniversary celebration interspersed throughout the episode were all a recurring dream that Kate had been having leading up to her wedding to Toby.
So no — Jack never actually got to grow old, and that is part of what made seeing Kate's dream version of old Jack so much more emotional for viewers. Seeing what Jack and Rebecca's romance would have been like in the present day if he survived that freak crockpot accident was just too much for some viewers to handle, and they took to Twitter to express their Jack-related emotions. Check out some of the best responses to Jack as an old man below:
The This Is Us Season 2 finale showed Kate's dream of her parents' 40th wedding anniversary celebration various time throughout the episode. We saw Jack renews his vows, Rebecca singing a song at the reception ("Moonshadow" by Cat Stevens), and both Jack and Rebecca dancing with all their grown kids. The dream was a big part of why Kate found herself freaking out when she couldn't find the piece of her father's tee-shirt that she wanted to pin to her wedding dress as her "something old."
After running off on the morning off the wedding in a desperate attempt to find something of her father's to incorporate into the ceremony, Kate finally realizes (with some help from a phone call with her mom) that she needs to let go of Jack a little bit in order to let Toby in. After all, the only thing missing for her dream was Toby, who is the man that she should have been focused on leading up to her wedding. Kate says a goodbye to the urn of Jack's ashes that she brought with her to the woods, and returns to the wedding venue. It's left unclear whether Kate spread all of Jack's ashes in those woods or just some of them.
With her love for her dead father back at a less fanatical level, Kate is able to go through with a beautiful wedding ceremony with Toby... although a last-minute cliffhanger left fans with some doubts about the now-married couple's future together. In the final few minutes of the finale, the show flashes forward to Kate telling Toby that his doctor needs to change his medication, and Toby looks listless under the covers of his bed. They just couldn't leave us on a happy note, could they!?