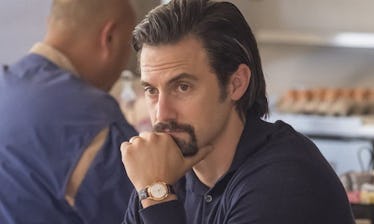 'This Is Us' Is Going To Show Jack As An Old Man & We're Already Sobbing
NBC
After the gut-wrenching reveal of Jack Pearson's death on This Is Us, it seemed like fans could put their tissue boxes away for good. That big, long-awaited moment happened, and now it's time to move onto positive things, like Kate and Toby's upcoming nuptials. But, only a few weeks after that fateful episode, fans are reminded that this show isn't one to pride itself on "happy endings." Kate and Toby's wedding, as happy an occasion it may be, will still be missing one thing: a father to give away the bride. The This Is Us creators know that Jack's absence will be punch-to-the-gut moment, and have decided to really hit us where it hurts. New photos from a wedding on theThis Is Us set show Jack Pearson as a old man and they'll bring on tears you never asked for.
Since audiences watched Jack's death scene during the episode after the Super Bowl on Feb 4., it's clear we're not dealing with a legitimate return of the family's patriarch, but perhaps an It's A Wonderful Life-inspired imagined storyline.
There are only two episodes left in Season 2, and it wouldn't shock me if one of those episodes showed where the Pearson family members would be if Jack had never died. This would make sense to tie in with Kate's wedding, because it will be a day where Jack's spiritual presence is felt heavily by the whole family.
The promo for Season 2 Episode 16, which airs on Tuesday, Feb 27, makes it clear that Jack's story isn't over.
Fans learned earlier this season that Jack fought in Vietnam, and by the looks of the upcoming episode, the show will give us a deeper look at his past.
Milo Ventimiglia, who plays Jack Pearson, ensured fans that they haven't seen the last of Jack. Speaking to USA Today, Ventimiglia said:
We've only known this man [Jack] for a little over 30 hours. … Even though we've seen his end, I don't think that impacts the storytelling of wanting to know about other aspects of his life, of his younger years, of being in the war in Vietnam, of being with his wife, Rebecca... There's still a lot of story to mine and I'm looking forward to all of it.
Besides Jack's evolving storyline, the upcoming episode shows Kate preparing for the wedding with her bachelorette party, Deja coming back to Randall and Beth's family, and Kevin moving forward through his road to recovery.
Just days before the devastating episode featuring Jack's funeral aired, series creator Dan Fogelman told USA Today in the above article that the beloved character's funeral was "not quite a to-be-continued [episode], but it's the next step in the process."
He even promised,
We are determined that the show continues moving forward with regular episodes that have nothing to do with Jack in terms of his death, but everything to do with Jack. It's not like we'll completely ignore the story we just told over the last few episodes, but you will also see (this season) just continues moving forward.
As for fans who are determined they'll never know happiness after Jack's death, Fogelman's USA Today interview hints that that may not exactly always be the case. He told the site: "Once you know all the details of what happened to Jack, it makes the story lines even richer. And we're excited to do that once the audience is no longer going, 'How did he die?'"
Though it's hard to picture a future where the Pearson family storyline doesn't look heart-wrenching and sad, Fogelman's promise to fans that the cast's storylines will feel "richer" is very much welcomed.
Now, if he'd just explain WTF Jack's doing as an old man, that'd be great.