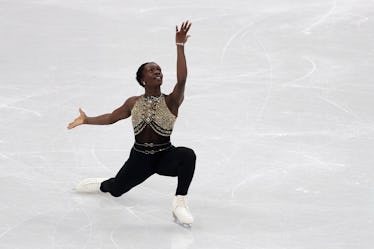 Maé-Bérénice Méité Did Her Short Program To Beyoncé & Twitter Is All About It
Richard Heathcote/Getty Images Sport/Getty Images
Here we go again, world! French figure skater Maé-Bérénice Méité was back on the 2018 Winter Olympic ice on Wednesday, Feb. 21 (which was Feb. 20 in the United States), for her individual skate competition and fans were ready for it. If you've been keeping up with the PyeongChang games, you'd know Méité is a fan-favorite for her skating, her jumpsuits, and maybe most notably, her songs of choice. These tweets about Maé-Bérénice Méité's Beyoncé short program show exactly why this girl has our attention.
Méité's individual short program wasn't the first time fans saw her Bey-medley. Méité whipped out her Queen B routine earlier in the Olympic Games when she competed in the team ladies single skating short program on Saturday, Feb. 10. While she did suffer a few missteps and stumbles, it was clear she had the arena totally won over, anyway. When she competed in the individual short program, the routine went pretty smoothly. Though she did put her hands down on the ice, she walked away with a score of 53.67 to end up in sixth place (as of her routine). Not too shabby.
Her whole skate ran two minutes and forty seconds long, and included song renditions of Beyoncé's "Halo" and "Who Run The World." According to commentary during her Feb. 10th skate, the female figure skaters are required to include three jump elements, three spins, and a footwork sequence. (Fancy.)
Twitter was all about it.
If you missed her routine and are already regretting it, don't worry.
She's done it before — check out this video of her performing at the European Figure Skating Championships in Moscow this past January.
Méité has been a Beyoncé fan like, since the birth of Beyoncé, just like me. In a Skate Guard interview back in 2014, she described what her ideal day off from the training would like. Surprise! It included Beyoncé tunes. Méité said,
I would go to a beautiful place lost in the middle of nowhere... a haven of peace with waterfalls. I would bring my best friends there with no phone, no internet, nothing but nature. We would eat fruits from that place and we would be listening all day long to Beyoncé's songs.
Specific, no?
Méité also spoke with Cosmopolitan after the team event in PyeongChang and answered more questions about her song choice.
She said, "It's different! But I'm different, too, so [going in] I was like, 'Why not go for it?'" She added, "I wanted to do something that was very me, something fun, something I would enjoy!"
Obviously, fans ate it up.
Though her music was on point, her skating was not, and it landed her in ninth place with a score of 46.62 heading into the individual competition.
Still, despite her stumble, all we remember is the music and her epic jumpsuit. After her routine, Méité tweeted out, "Thank you again guys for the love and support guys, it means the world to me you have no idea."
In browsing the rest of her Twitter feed, I stumbled across an Olympic channel feature called "Anatomy of a Figure Skater" featuring Méité. In the video, the narrator explains, "Her physical strength and energetic routines have made her one of the most popular performers on the ice."
Méité also explains,
My body type is completely different from the body type you can see when you're watching figure skating. I'm more muscular, more athletic, so that's my strength, and I try to play on that strength to do some things other girls cannot really do.
Pair that was a little Queen B, and you've got yourself one hell of a competitor.
Erin Jackson is an inline skating world medalist and roller derby MVP. She dreamed of skating in the Olympics, but to do that, she had to get on ice. She took her first steps on a long-track course in 2016 and started training professionally in September 2017. Four months later, she qualified for the Olympic Winter Games. Check out Elite Daily Insights' video on Jackson's incredible story: