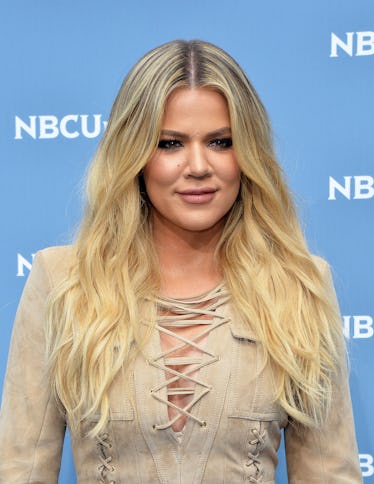 Khloé Kardashian Gave Birth To Her First Child & Twitter Has A LOT To Say
Slaven Vlasic/Getty Images Entertainment/Getty Images
It feels like just yesterday that we learned of Khloé Kardashian's pregnancy, and now, here we are, congratulating her on the birth of her daughter! I don't know about you, but I seriously cannot contain my excitement. We're sure the Kardashian family is over the moon about the newest addition, but there are a few other people that are equally happy. And by "few," I mean the entire world, and these tweets about Khloé Kardashian having her baby girl totally prove it.
It was a Christmas miracle when we found out that Khloé Kardashian was expecting. On Dec. 20, she posted an adorable photo of her baby bump (with Tristan Thompson's hands holding hers) with a caption that read,
My greatest dream realized! We are having a baby! I had been waiting and wondering but God had a plan all along. He knew what He was doing. I simply had to trust in Him and be patient. I still at times can't believe that our love created life! Tristan, thank you for loving me the way that you do! Thank you for treating me like a Queen! Thank you for making me feel beautiful at all stages! Tristan, most of all, Thank you for making me a MOMMY!!! You have made this experience even more magical than I could have envisioned! I will never forget how wonderful you've been to me during this time! Thank you for making me so happy my love!
BRB, weeping.
Then, on Jan. 15, we got to see it all unfold on Keeping Up With The Kardashians, when Kardashian told friends and family about her pregnancy while they were at mom Kris Jenner's house in California enjoying a barbecue. We also got to see the moment when she found out she was actually pregnant, and revealed the news to Alexa, her assistant:
It was all just the absolute best, and fans choked up at the thought of KoKo being a mom:
Since then, we were fortunate enough to follow Kardashian throughout her pregnancy journey, and it's been a literal blessing to have seen her looking so damn cute as the months have past. She did reveal that even she surprised herself with how long she kept her bump a secret though, writing on her website,
I can't even believe I hid my bump for as long as I did, lol ... It took a few styling sessions, serious strategy and a sh*t-ton of courage, but it worked!
It definitely worked for those first few months, but we are SO glad she let the cat out of the bag, because without the announcement, we wouldn't have been able to see adorable posts like this:
Or sweet pictures like this:
Or the perfection that is this photo:
We are seriously not worthy.
But now that the newborn is here, we're less about seeing the baby bump, and more about that baby.
Fans were beyond happy hearing Kardashian and Thompson's news, and took to Twitter to share their excitement, which was tempered just a bit with this week's claims that Thompson had cheated on her during the pregnancy:
And other people were, of course, considering the implications following the drama over rumors that Thompson was seen cheating, according to The Daily Mail. Elite Daily reached out to Kardashian's and Thompson's team for comment on the cheating allegations, but has not heard back by the time of publication.
Even so, it's *pretty* obvious that the world is absolutely over the moon for the new mom.
The rumors about Thompson cheated are hard for fans to stomach, considering the couple's history. For instance, Kardashian penned the sweetest post on her website about how she knew Thompson was "The One" for her, and it confirmed that the two are such a great pairing. She wrote,
My answer for this probably doesn't apply to everybody, but I knew Tristan was the one very quickly—I have never felt so comfortable or so safe with someone. Because of that, I took it very slowly and was cautious about how I went about 'us.' I made sure we had very in-depth conversations. I wanted to make sure that those conversations were backed up by actions.
She also added that they "spoke about religion, children and our families," and recognized the importance of talking about "the real things" for a "long-lasting relationship."
Regardless of what's going on in the relationship, I'm sure that Kardashian will be crushing the parenting game, and the world wants to send out a huge congratulations to the whole family!