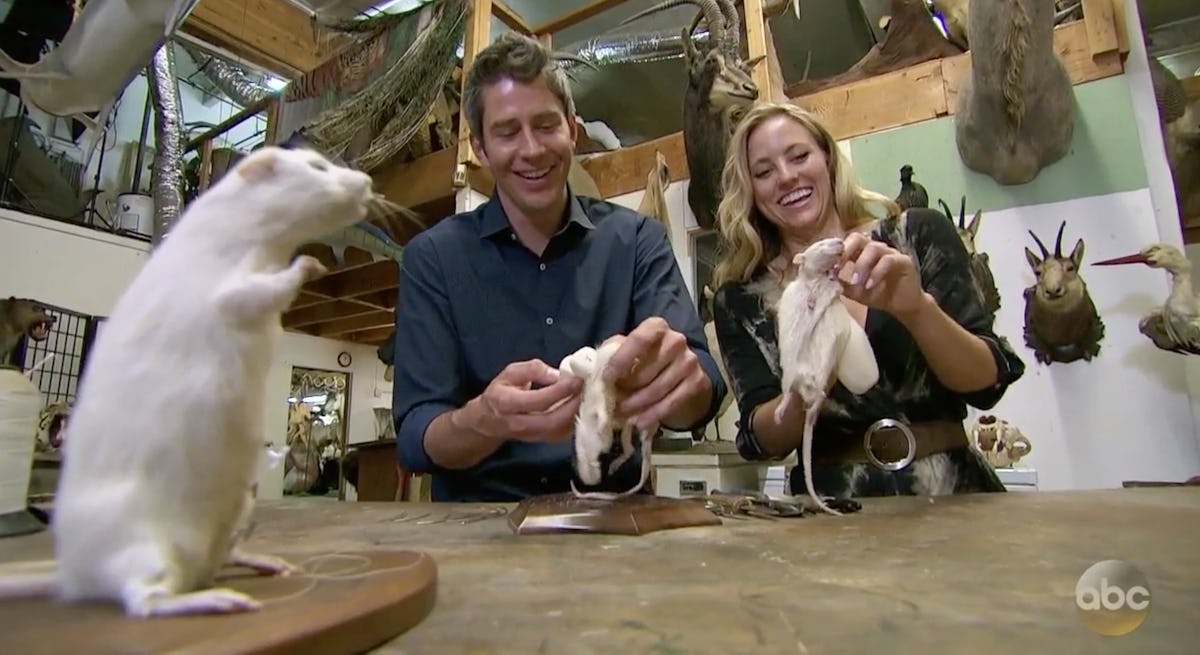 Kendall From 'The Bachelor' Finally Showed Arie Her Taxidermy & Twitter Is So Freaked Out
ABC
It's time for hometown dates, and it's a big deal in Bachelor Nation. We even had the day off work for it. Oh wait, that was President's Day. Arie went to visit all the ladies and their families across the country to determine who will be one step closer to becoming his fiancée. Fans definitely had some opinions on the matter. Tweets about Kendall's hometown date prove Bachelor nation can't handle taxidermy quite yet.
Kendall's hometown date took Arie and the producers all the way to the sunny and mystical land of Los Angeles. That was a joke. They film in Los Angeles. DO YOU GET IT THOUGH? Kendall's date started with her greatest passion — taxidermy. It was... different. Before viewing this date, I had no idea how to taxidermy an animal. I don't think that's the proper phrasing, but it's my first time.
Taxidermy is officially defined as "the art of preparing, stuffing, and mounting the skins of animals with lifelike effect." Hmmm... yes. Kendall has been passionate about her love for taxidermy during the entire season, so this shouldn't have come as a surprise. I'm not sure if it was because the animals Kendall and Arie were stuffing were rats or the fact that said rats got dressed in little clothes, but the whole thing was creepy. Needless to say, Twitter was scared.
Kendall's hometown date continued business as usual. Arie met her parents and sister. If you met her sister on television tonight, you may have had to do a double take because they have the same face. Literally, they are identical twins. While twinning is fun, there was something bigger exposed: Kendall's twin sister's name is Kylie, making them the original Kendall and Kylie. Let me just say, the Kardashians have nothing on these Bachelor babes. The OG Kendall and Kylie share the same zen vibes, and seem like genuinely cool people.
Taxidermy or not — Kendall is one of my favorite contestants. She seems like a genuinely nice and intelligent person. However, her love of taxidermy is so, so real.
Besides how adamant she was during the season, Kendall let her freak flag fly during the interview process before the show. When asked about the most romantic gift she's ever received, Kendall told ABC,
My ex gave me an alligator hand holding an iron heart in a jar! I collect taxidermy so it was sweet to me.
You hear that? An iron heart in a jar. A boyfriend would have to go a lot farther than Pinterest to find the right gift for Kendall.
Her love of taxidermy springs from her love animals. The top three things on her bucket list include hedgehogs, pigs, and scuba diving. Kendall told ABC,
Visit Japan and go to a Hedgehog café, go scuba diving by a shipwreck, hang out with pigs in the Bahamas.
Keep doing you, Kendall. She was definitely the sleeper contestant for me. She was cute and quirky, but I didn't know if she and Arie would share a general connection. By making it to the final four, she proved that she's here to compete. She posted a photo on Instagram Feb. 6 of herself and a few contestants jumping for joy in front of The Louvre in Paris. The caption to the photo said,
Paris... I will always have a warm spot in my heart for you because you were the beginning of so much...
Paris was a huge turning point for Kendall and Arie, and (at this point in the season) they don't seem to be slowing down any time soon. Arie told her he was falling for her which is huge. What will happen next? I CAN'T WAIT TO FIND OUT.
Check out the entire Gen Why series and other videos on Facebook and the Bustle app across Apple TV, Roku, and Amazon Fire TV.