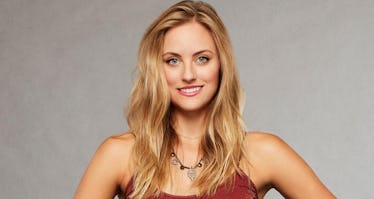 This 'Bachelor' Contestant Loves Taxidermy, So This Season Will Be Interesting
Great news, everyone. 2017 is almost over and a new season of The Bachelor is about to begin. In 2018, we're being gifted with a brand new cast, Arie Luyendyk as our Bachelor, and apparently some pretty fierce competition. Among the 29 women competing for Luyendyk's heart is Bachelor contestant Kendall, and she is fascinating.
I know. "Fascinating" sounds like a bold claim this early in the game, but let me explain. As you guys know, each season the cast's headshots roll out on ABC's website with a few fun details about each contestant. Included in Kendall's bio are the facts that she's a creative director, lives in California, and is obsessed with taxidermy.
Record scratch. DJ, play that last part back.
Yup, she's into taxidermy, which is officially defined as "the art of preparing, stuffing, and mounting the skins of animals with lifelike effect." Fascinating, right?
The official question is: "What is the most romantic present you have ever received and why?" Here's her response:
My ex gave me an alligator hand holding an iron heart in a jar! I collect taxidermy so it was sweet to me.
You guys... THE MOST ROMANTIC GIFT SHE EVER RECEIVED WAS A DEAD ALLIGATOR HAND HOLDING AN IRON HEART — IN A JAR, EVEN!
It seems like I just can't deal with this info right now. Yet, here I am, writing about it on the internet.
Plus, that might not even be Kendall's most interesting answer. She also thinks if she could be an animal she'd be a bat, because her sister says she can "see the beauty in dark things." She also claims the craziest thing she's ever done was drive "a car off of a ramp and through the caboose of a moving train. No lie."
Right. Me too.
But, what about her ideal man? If Luyendyk ends up proposing to Kendall, she has a few requirements. Kendall describes her ideal mate as "tall, easy smile, can survive a zombie apocalypse-type body." Honestly, I am also down to clown with someone who can survive a zombie apocalypse.
As for Luyendyk, he's back and he's more serious about finding love than ever before. In his bio it says,
After a tearful exit on Emily's season of The Bachelorette, Arie has stepped away from the spotlight and focused on his new career in real estate, which has brought him tremendous success. Even though he has been gone from Bachelor Nation, America hasn't forgotten Arie's rugged good looks and charm. Now Arie is back and ready to race into America's heart yet again.
Sure. Nothing gets America's wheels going like a rugged, charming real estate agent.
Anyhoo, Luyendyk revealed in an interview with Entertainment Tonight that the entire show process was more intense than he remembered. He said,
The first couple of days were pretty hard, because I was like, 'Oh my gosh.' I kind of forgot about the pressures of all of it, and it was interesting transitioning back ... It's hard, because you don't get much sleep, and you're going on all these dates and there were such amazing women. It was hard to narrow it down.
Wow, sounds like a nightmare.
He also spoke about what it takes to find the right person in such extreme circumstances.
You look for a person that can fit into your life and vice versa. It's easy to get wrapped up in the environment to be in love, going on these amazing dates. But you really have to look past the show into your regular life.
Tune in for the premiere at 8 p.m., Jan. 1 on ABC to see what happens when Kendall and Arie meet!
Check out the entire Gen Why series and other videos on Facebook and the Bustle app across Apple TV, Roku, and Amazon Fire TV.