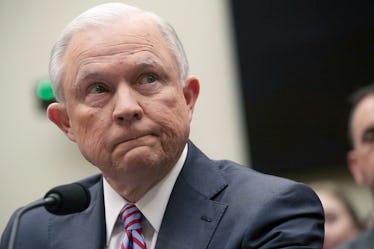 People Are Making Fun of Jeff Sessions For Not Remembering Anything, Again
Alex Wong/Getty Images News/Getty Images
On Tuesday, Nov. 14, the Attorney General made his first appearance before the House Judiciary Committee to testify about contacts between the Trump campaign and Russia leading up to the 2016 election. In response to the highly anticipated event, tweets about Jeff Sessions' memory began proliferating on social media. And setting aside the gravity of the situation, they're pretty funny.
Sessions has been in the hot seat for months after appearing numerous times this year before the Senate to testify, with increasing scrutiny as his answers don't appear to reconcile with news reports that have laid bare the links between the campaign and the Kremlin.
Things began to look even stickier for Sessions after the release of court documents unsealed on Oct. 30 revealed that George Papadopoulos, a former Trump campaign aide, had pleaded guilty to lying during FBI Special Counsel Robert Mueller's investigation. The same day, two other Trump campaign aides, Paul Manafort and Rick Gates, had been indicted by Mueller's team. The revelatory indictments and admissions shed light on connections some members of Trump's campaign had with Russian nationals, and mentioned Sessions by name, contradicting Sessions' repeated testimony. Sessions' go-to talking point has been a lack of memory. He said "I don't remember," or "I don't recall" 26 times during just one of his testimonies. And people are grilling him over it on Twitter.
"I would like to address the false charges made about my previous testimony," Sessions said during the hearing Monday. "My answers have not changed, I have always told the truth, and I have answered every question as I understood them to the best of my recollection."
But many people on social media aren't buying it. Specifically, users on Twitter were taking the Attorney General to task for what he said when asked about contacts with Russians during the campaign.
One user made a vampire reference, saying "Has anyone tried using holy water to extract the truth out of #JeffSessions?"
"Welcome to Treason Tuesday, as the keebler elf commits purjury by lying and excusing it by saying he was sleep deprived. #FireSessions #SessionsHearing," wrote another user by the name of Pete.
Making a reference to SNL's infamous Sessions skits, Rep. Ted Lieu (D-CA) tweeted, "Kate McKinnon about to testify before the House Judiciary Committee. Oh wait, that's actually Lyin' Jeff Sessions. #SessionsHearing[.]"
Several users made the logical connection that, if in fact Sessions struggles so much with his memory, perhaps he's unfit for the demanding and important office he holds. "It's clear watching the Jeff Sessions hearing that he either committed the crime of perjury or lacks the basic faculties needed to stay in the role of Attorney General," tweeted activisit Samuel Sinyangwe.
A user who goes by Caroline O. tweeted, "If #JeffSessions' memory is really as bad as he says it is, WTF is he doing as AG?"
Media Matters writer Alex Morash called out Sessions' responses during a round of questioning from Rep. Zoe Lofgren (D-CA), in which he repeatedly said "I do not recall" to her probes. "Can he even recall what he had for breakfast this morning?" Morash wrote.
In a Nov. 2 letter by Sen. Al Franken (D-MN) in which the Judiciary Commitee member wrote that new developments on the Trump campaign's contacts with Russia amounted to "another example in an alarming pattern in which you, the nation's top law enforcement officer, apparently failed to tell the truth, under oath."
Sessions on Monday said that, prior to news reports about Papadopoulos and Carter Page's meeting, he'd not remembered the event. "Frankly, I had no recollection of this until I saw these news reports," Sessions told the panel. "I would gladly have reported it, had I remembered it."
But Sessions on Tuesday repeatedly pushed back against all accusations that he was untruthful during his previous testimonies. "I will not accept, and reject, accusations that I have ever lied. That is a lie. I have at all times conducted myself honorably," Sessions said, fiercely defending his role at the Justice Department.
People will be waiting eagerly to see what the House's investigation will turn up. But in the meantime, Sessions has earned himself a place on Twitter's Tuesday conversation, if for an embarrassing reason.