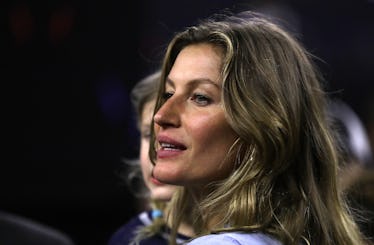 Fans Can't Get Over Gisele Bündchen's Reaction To Tom Brady Losing The Super Bowl
Ronald Martinez/Getty Images Sport/Getty Images
The final minutes of the 2018 Super Bowl were a nail biter — for everyone except Gisele Bündchen, apparently. At the end of the game, while it was becoming increasingly clear that her husband's team wasn't taking home the trophy, Bündchen seemed pretty unperturbed. And people noticed. These tweets about Gisele on her phone during the Super Bowl are roasting the Patriots, Bündchen's husband Tom Brady, and Bündchen herself about the surprising loss.
In the final quarter of the game, the Philadelphia Eagles not only scored a surprising field goal, but also took possession of the ball after a Tom Brady fumble to basically shut the New England Patriots out of a win. Those last two minutes of the game were an exercise in futility — as the Patriots did everything they could to prevent the inevitable, while the Eagles played a masterful game of running out the clock for the win.
If you were rooting for the Eagles, you were probably trying not to get too hopeful. If you were a die-hard Pats fan, you were probably trying to convince yourself there was a way back. And if you were Gisele Bündchen, you were apparently putzing around on your phone and just waiting for it all to be done. In the final moments of the game, the cameras caught her examining her hand, apparently either checking her phone or her manicure. Either way, she wasn't into it.
And Twitter thought it was hilarious.
Also dark. But mostly hilarious.
On the one hand, I kind of sympathize. Anyone who's ever looked down the barrel of inevitable defeat — athletic or otherwise — knows that watching your opponent finally seal the deal against your side can be kind of painful.
On the other hand, the jokes about a bored supermodel just waiting to be able to stop pretending she really cares about her husband's sports obsession are pretty funny.
It probably didn't help that it was the second time she had been caught on camera looking like she just wasn't all that into it.
Earlier in the night, she had been caught on the camera sitting in the crowd with her 5-year-old daughter Vivian, casually sipping red wine out of a (classy) stemless wine glass. Despite the fact that beer is the acknowledged drink of all major sporting events — seriously, even those of us who don't really like beer know that at the Big Game you'll be guzzling a Big Beer — Bündchen was all about bucking tradition. I can get behind a woman who won't be separated from her vino, cultural norms be damned.
People really identified with her wine-drinking ways.
Of course, all jokes (and that bored look) aside, Bündchen was pretty clearly there to support her husband.
Earlier in the day, she posted to social media showing how excited she was to see her hubby, Patriots quarterback Tom Brady, play (and hopefully win his sixth Super Bowl title). In the hours before the game she posted an Instagram pic of herself with family and friends, all wearing sparkly versions of Tom Brady's Number 12 jersey to support her husband. She captioned the photo simply, "Let's go Pats!" with a couple of heart emojis.
So is she, as Twitter has been joking, filing for divorce or looking to trade up? I'm going to go out on what's probably a very stable limb and say no. Bündchen is pretty clearly a supportive partner, whether or not she does a great job of hiding how salty she's feeling about a very disappointing loss. Still, I'm going to enjoy the Twitter jokes about it all. The game may have ended, but memes are forever.