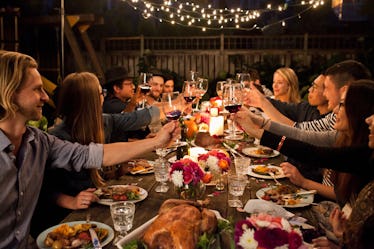 Everyone's Tweeting The Same Thing About Friendsgiving & Honestly, We Can Totally Relate
Friendsgiving can be tough. After all, who has the time to organize some big potluck dinner party between 20 different people? (More importantly, who has 20 friends? Asking for a friend, duh.) Sometimes it's the events intended to bring us together that can make us the most aware of how separated we actually are. But if you're feeling bummed about flying solo this holiday, tweets about Friendsgiving are sure to remind you how utterly normal it is to be alone during the holidays.
Between the endless torrent of social media posts and the nonstop holiday TV specials, you might start to wonder if literally everyone is whipping up some insanely delicious meal to share with all of their besties in a gorgeous overlook filled with stringed lights and themed decorations. But in truth, most Friendsgivings are just dinner. That's it.
In 2017, we have to deal with two sets of realities on a daily basis: the real world, and the social media world. In the social media world, you might think that you're missing out on the most fun you've ever had in one night if you don't go to a Friendsgiving party. In the real world, most people don't even go to one at all. The good news is that the social media world giveth as much as it taketh: Here are a few tweets about Friendsgiving that'll help you realize you're never truly alone during the holidays.