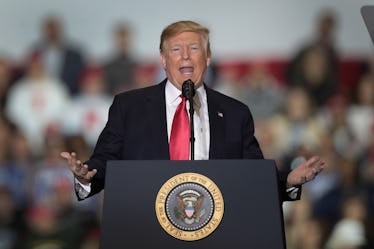 Twitter Is Roasting Donald Trump's Nobel Prize Nomination & TBH Same
Scott Olson/Getty Images News/Getty Images
Is it just me, or have the past few weeks felt like a dream? We might have all been distracted by Kanye West's triumphant return to Twitter, but there's been a recent political development that's caught my attention. GOP representatives have reportedly nominated the current president for a very prestigious award, and these tweets about Donald Trump's Nobel Peace Prize nomination prove people have plenty to say about it.
According to Talking Points Memo, a group of 18 GOP representatives sent a letter on May 2 nominating Donald Trump for the prestigious Nobel Peace Prize to celebrate his reported work to "end the Korean War" and plan to denuclearize the North Korean peninsula.
The letter read,
Since taking office, President Trump has worked tirelessly to apply maximum pressure on North Korea to end its illicit weapons program and bring peace to the region. His administration successfully united the international community, including China, to impose one of the most successful international sanctions regimes in history. The sanctions have decimated the North Korean economy and have been largely credited for bringing North Korea to the negotiating table.
On March 8, the Associated Press reported that Kim and Trump plan to meet in the summer of this year to discuss the denuclearization of North Korea. According to South Korean officials, the negotiation between Kim and Trump will center around ending Pyongyang's nuclear weapons program. According to the AP, Chung Eui-yong, the South Korean national security director, spoke to reporters on April 8 about the future meeting and Kim's commitment to denuclearization.
"[Kim] expressed his eagerness to meet President Trump as soon as possible," Chung said. "President Trump appreciated the briefing and said he would meet Kim Jong-un by May to achieve permanent denuclearization."
OK, I'll admit, Donald Trump has made some serious strides rectifying his rocky relationship with North Korean leader Kim Jong-un. This is definitely a large step in building relationships between the two nations. But given Trump's past comments, Twitter is still a little skeptical whether Trump really deserves a nomination of quite this caliber.
Even though this is certainly a development between North Korea and the United States, it doesn't excuse Trump's less than mature behavior leading up to this negotiation. It's no secret that Trump loves expressing his candid thoughts on Twitter, and apparently even the threat of nuclear warfare won't stop him from tweeting a jab or two at a world leader. In September 2017, Trump sparked extreme controversy when he referred to Kim as "rocket man" in a tweet. He wrote,
I spoke with President Moon of South Korea last night. Asked him how Rocket Man is doing. Long gas lines forming in North Korea. Too bad!
Then, as if things weren't bad enough between the two foreign leaders, Trump continued to taunt Kim during a United Nations assembly on Sept. 19, 2017, using the epithet again and saying that the United States would have "no choice but to totally destroy North Korea," should the isolated nation continue with its nuclear tests. However, Kim made it very clear that Trump isn't the only one who can fire off threats with the best of them. Following Trump's United Nations' comments, Kim addressed Trump's threats with a few of his own on Jan. 1, during a New Year's address.
He said,
The entire United States is within range of our nuclear weapons, a nuclear button is always on my desk. This is reality, not a threat. This year, we should focus on mass-producing nuclear warheads and ballistic missiles for operational deployment. These weapons will be used only if our society is threatened.
Judging from these two men's constant bickering — about nuclear weapons — it goes without saying that their relationship can only go up from here. Yes, Trump is making progress with Kim, but dare I say that it wouldn't have hurt if he had just kept his hands off his keyboard in the first place?
Nominees for the Nobel Peace Prize can be named by members of a national government, former Nobel Peace Prize winners, university professor, etc. The list of nominees are kept secret from the public, and members of the Norwegian Nobel Committee will choose a winner through a majority vote, with the results being announced in October. Past winners have included Barack Obama, Nelson Mandela, Shirin Ebadi, and many others.
Who knows who'll receive the Nobel Peace Prize. One thing is for sure, we'll be reading plenty about it on Twitter.