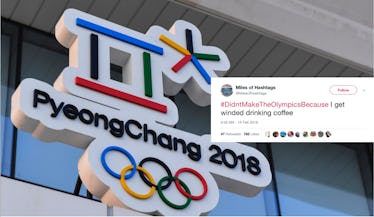 Twitter Is Roasting Everyone Who's Too Lazy For The Olympics & I Feel Seen
Koki Nagahama/Getty Images Sport/Getty Images
The Olympic Games is a time where people get together and watch highly-skilled athletes try to take home the gold for their country. While the athletes take part in death-defying sports in the dead of winter, we all sit back from the comfort of our homes with a pizza and lazily look upon them and judge. Personally, I am not at all qualified to be in the Olympics, or even 20 feet away from any Olympic event, and I am not alone. Twitter is humming with tweets about "Didn't Make the Olympics Because" and they are hilarious (and a little too true!).
The PyeongChang 2018 Winter Olympics officially began on Friday Feb. 9, and since then it's been nonstop action. Skiing, skeleton, luge, drooling over Johnny Weir's outfits during the figure skating events, it's been a heck of a time. Also, if I may add, extremely tiring. Every time I turn on the games and see some person twirling away on the ice or skiing full speed down a snowy slope, I get utterly and completely exhausted. True, maybe I feel just a little inadequate about my untapped potential (that of course has nothing to do with actually partaking in anything closely related to an Olympic sport, but everything to so with a closet full of "athleisure" that's never been touched ) but, mostly I find myself experiencing sympathy pain and wondering if they use bath bombs after an event, and if so, which ones?
Some people felt like me while watching the Olympic games. It brought to the surface all the things they could be doing instead of being at the games.
So, #Didn'tMakeTheOlympicsBecause was born, unveiling all of the completely ridiculous (and extremely true and relatable) reasons why we're all not at the Olympics.
Some of us were just not born that way. I can't even walk in a straight line.
#DidntMakeTheOlympicsBecause my sport is not recognized yet.
Yes to all of the above. Also professional wine drinking, singles frosting eating, chewing gum while walking, mixed rubbing belly and patting head simultaneously, not cleaning out the fridge and, oh, leather jacket hoarding.
#DidntMakeTheOlympicsBecause I have my priorities in order.
Some people just have their lives more together than others. I'm guessing each one of these hilarious tweeters has a bullet journal that they ordered on Etsy. It's pretty obvious.
#DidntMakeTheOlympicsBecause #curling?
It could happen to any of us. It's a baffling sport.
The Winter Olympic games officially come to a close on Feb. 25. This year's Olympics has been pretty exciting so far. Right off the bat there were a bunch of exciting new things added to the PyeongChang 2018 Winter Games, like big air snowboarding and freestyle skiing. Slopestyle, the tricked out obstacle course-like skiing and snowboarding event, was brought back to the Olympics for only the second time ever. Adam Rippon became the first openly gay male U.S. figure skater at the Winter Olympics, while skater Mirai Nagasu became the first ever American woman to land a triple axel at the Olympics.
All the old stuff was there too: alpine skiing, ice hockey, luge, skeleton, curling, ski-jumping, you know, all the sports. It's been jam-packed, exciting, and there is still time to go! So even if you know that being in the Olympics was never in the cards for you there are still ways that you can enjoy this time and not feel bad.
For instance, you can take part in #DidntMakeTheOlympicsBecause and feel good that you are not alone and there are lots of average people out there. Or grab your pizzas and your wines, kick back and say, "Big deal, I could probably do that."