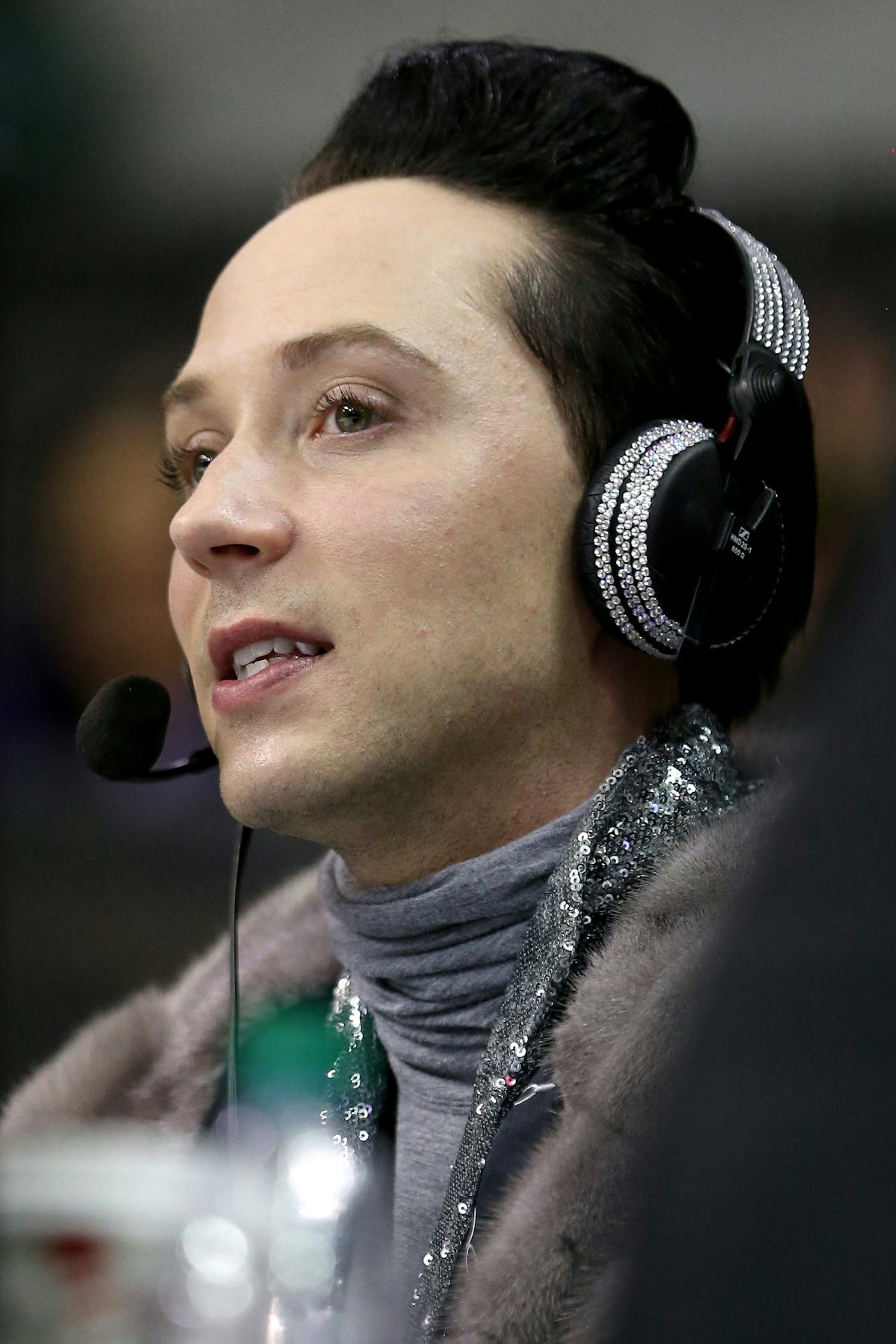 Twitter Doesn't Know Whether To Love Or Hate Johnny Weir At The Winter Olympics
Matthew Stockman/Getty Images Sport/Getty Images
For some (probably most, but not all), the PyeongChang 2018 Winter Olympics have been all about the games. From skiing to curling, people love to watch their countries' competitors put it all on the line to bring home a medal. But for some of us, the best part about the games so far has been seeing Johnny Weir's fabulous outfits at the 2018 Winter Olympics. Seriously, I can't get enough.
The former figure skater turned commentator has long been known for his Olympics looks, but this year he's taking it to a whole new level. Let's just say it's full on Hunger Games Capitol. Viewers usually expect all the glitz and glam of figure skating to be radiating from the competitors' outfits, but Weir blows them out of the water.
On Thursday, Feb. 8, Weir and the other half of his commentary duo, Tara Lipinski, showed up in Dreamgirl-red sparkle from head to toe. Weir dawning a bedazzled tuxedo-style blazer. It was something fierce, and since then, he has been pulling out all the stops, upping his game each day and showing off some Olympics-style realness. Honestly, I feel honored just to be able to write words about him. I'm truly humbled.
Look at this:
Of course, I am not alone. The Twitterverse is living for Weir at the Olympics.
Of course it's not only about the outfits. Weir and his partner in crime, Lipinski debuted at the Sochi 2014 Winter Olympics and put themselves on the map as a commentating powerhouse duo. This year, at PyeongChang, they are back and proving that their outfits aren't the only epic thing about them. They came out of the gate swinging hard — seriously, they should get a gold medal for slinging shade. I'd be more scared of Weir and Lipinski than any triple axel.
However, some of Twitter was not having their commentary and decided to throw some shade back.
Ouch! Weir did have a response for the haters, though.
OK, so maybe Weir is a little biting, but what he tweeted was true. He knows what he is talking about. He is a three-time United States figure skating champion and a two-time Olympian. Weir also picked up a bronze medal at the 2008 World Championships, the only competitor from the U.S. to take home a medal during that competition. Weir first competed in the 2006 winter Olympics in Torino, Italy and then again in the 2010 Winter games in Vancouver. In 2013, on NBC's TODAY, Weir announced that he would be retiring from competitive skating and it was then that NBC offered him the position of expert figure skating analyst for all of their skating coverage, including Sochi 2014.
So, yes, Weir might be throwing some major shade, but he does have a reason behind it, and it's not just for entertainment value. Some people took notice and appreciated that.
There were an outnumbered few who appreciated the hard-hitting commentary coming from Weir and Lipinski.
All in all, Weir is bringing a full show to the 2018 Winter Olympics. From the blinged out headsets, to the crazy shiny outfits, to the biting commentary, it is all there and making the Olympics that much more fun to watch. Listen, I don't know a heck of a lot about figure skating — some might even say I know nothing about figure skating other than that when the people in the skates jump, they should try really hard not to fall.
Still, I love watching because it's interesting to see what music they pick and how each skater brings his or her own flair to the piece. I remember Weir bringing the show when he was still lacing up his skates back in the day, and he is bringing that same uniqueness and glam now. Now, excuse me while I go and try to figure out how to break into his closet.