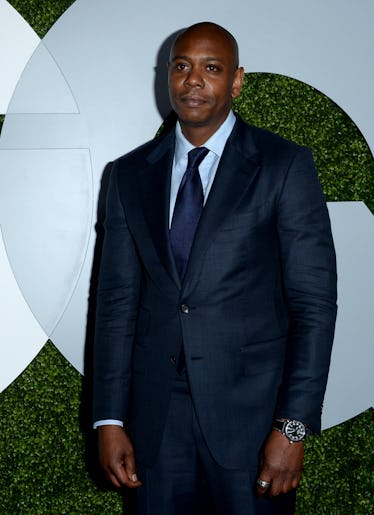 Dave Chappelle's Controversial Netflix Special Has Twitter Completely Torn
Jason Merritt/TERM/Getty Images Entertainment/Getty Images
Dave Chappelle is a comedic force to be reckoned with. Since headlining the groundbreaking and Emmy-winning Comedy Central sketch series, Chappelle's Show (which premiered in 2003 and ran until 2006), the household name has been a favorite on the scene, heralded a genius of the craft by critics and viewers alike. Well, the comedian ended 2017 by releasing two new stand-up specials via Netflix on Dec. 31, The Bird Revelation and Equanimity. The works were met with both outrage and jubilation — because of course the internet had something to say about it. The tweets About Dave Chappelle's Netflix special prove that comedy's capability to polarize is alive and well.
"Sometimes the funniest thing to say is mean," Chappelle opens with in The Bird Revelation. "You know what I mean? Tough position to be in. So I say a lot of mean things, but you guys gotta remember: I'm not saying it to be mean. I'm saying it because it's funny. And everything's funny 'till it happens to you."
Unfortunately, there's a fine line between funny and mean in the subjective lens of the viewer when it comes to telling jokes. In fact, sometimes there's no line at all or there's a four-lane freeway, depending on who you ask. Chappelle has faced controversy in the past and his latest specials aren't without criticism. But that doesn't mean he's lost a loyal fanbase or people who continue to root for him.
Dave has been criticized for coming off as out of touch and derogatory when it comes to LGBTQ issues — a subject he's gotten heat for before. There are also accusations of sexism and misogyny, based on his remarks defending fellow comic Louis C.K. in the wake of his public sexual misconduct scandal.
"All these allegations were terrible. I shouldn't say this, but his allegations were the only ones that made me like laugh," Chappelle asserts, regarding Louis C.K. in The Bird Revelation. ""When you think about it, all his friends are reading it, and he's jerking off — he's surprising people ... At the same time, you know what I mean, Jesus Christ, I don't know, they took everything from Louis. It might be disproportionate, I can't tell, I can't tell. This is like where it's hard to be a man."
Speaking about one of C.K.'s accusers, Chappelle observes, "One lady said, 'Louis C.K. masturbated in front of me, ruined my comedy dreams. Word? Well, then I dare say, madam, you may have never had a dream. Come on, man... that's a brittle spirit. That is a brittle-ass spirit, that is too much."
If you've been following his career at all, you probably already know that Dave Chappelle has never been known for politically correct comedy. Although it's evident that some critics and viewers feel it's necessary to evolve and reflect more tolerant attitudes. Sometimes just declaring "I'm not saying it to be mean, I'm saying it because it's funny" upfront doesn't make things any less hurtful. When asked if he thought Chappelle's Show could survive amidst today's so-called sensitivity, the comedian discussed his approach to potentially making controversial mistakes. He told Power 105.1's The Breakfast Club,
Comedians wipe out. Everybody does. Sometimes you're going to say something and you might be wrong. That's the nature of the genre. To not take a chance for fear of that would not be me being true to me.
A lesson we've definitely learned over the past years is that what's deemed offensive is in the eye of the beholder. A quick scan at Twitter about basically any hotly-debated topic under the sun can teach you that.