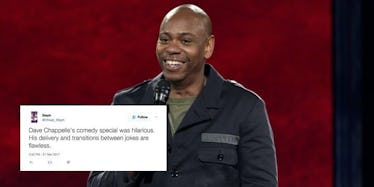 Dave Chappelle's Netflix Special Is Finally Out And Twitter Can't Stop Laughing
Netflix
"Where the hell have you been, man?!"
That was exactly what I shouted at my TV when Dave Chappelle strolled out on stage in his new Netflix stand-up comedy special. After all, we've been waiting 10 goddamn years. I figured it was a very appropriate question to ask.
But never mind me, all you need to know is Dave Chappelle's new comedy special is finally here. For weeks, Netflix teased us with hilarious trailers that only subdued our craving for genuine laughter.
Here's the first trailer.
The trailers gave us a glimpse into the hilarity that would ensue on March 21. Thankfully, March 21 is here and we were blessed with not one, but TWO new specials from Mr. Chappelle.
Boy, does he have a lot to say!
Here's the second (official) trailer.
Now, I've already seen both of the specials, but don't worry, I personally don't believe in spoilers so I won't even go there. All you need to know is the 43-year-old comedy legend is back (and hopefully here to stay).
Chappelle showcases his effortlessly flawless stand-up technique by intertwining foul language and blatant, unapologetic realness while discussing all that's been on his mind during his hiatus.
In a combined 132 minutes, the funnyman responsible for introducing the world to Ashy Larry and "The Niggar Family" on Comedy Central's "Chappelle's Show" reminds us of exactly what the world's been missing.
If you still need convincing of why you should set a couple of hours aside tonight, just leave it to the Twitter community!
People just can't get enough of Dave Chappelle's new stand-up comedy special on Netflix.
It looks like he's proved his legend status yet again.
Was Chappelle really gone for 10 years?! It's hard to tell.
I think we can all agree we NEEDED these laughs.
Dave delivered them effortlessly.
It didn't take long before people were laughing their asses off.
Be careful watching them at work, though!
It's THAT damn funny.
Of course, the new material sparked a massive debate over which comedian really reigns supreme these days...
The truth is there's no comparison. Dave Chappelle is in a league of his own, and he makes that clear in his latest offering.
He covers everything from the times he met OJ Simpson...
...to how fed up he is with Key and Peele.
And that doesn't even cover a fraction of everything else he's been holding in for a decade.
If you haven't already, I highly suggest you fire up that Netflix app, set your phone to "do not disturb" and witness comical greatness... You won't regret it!