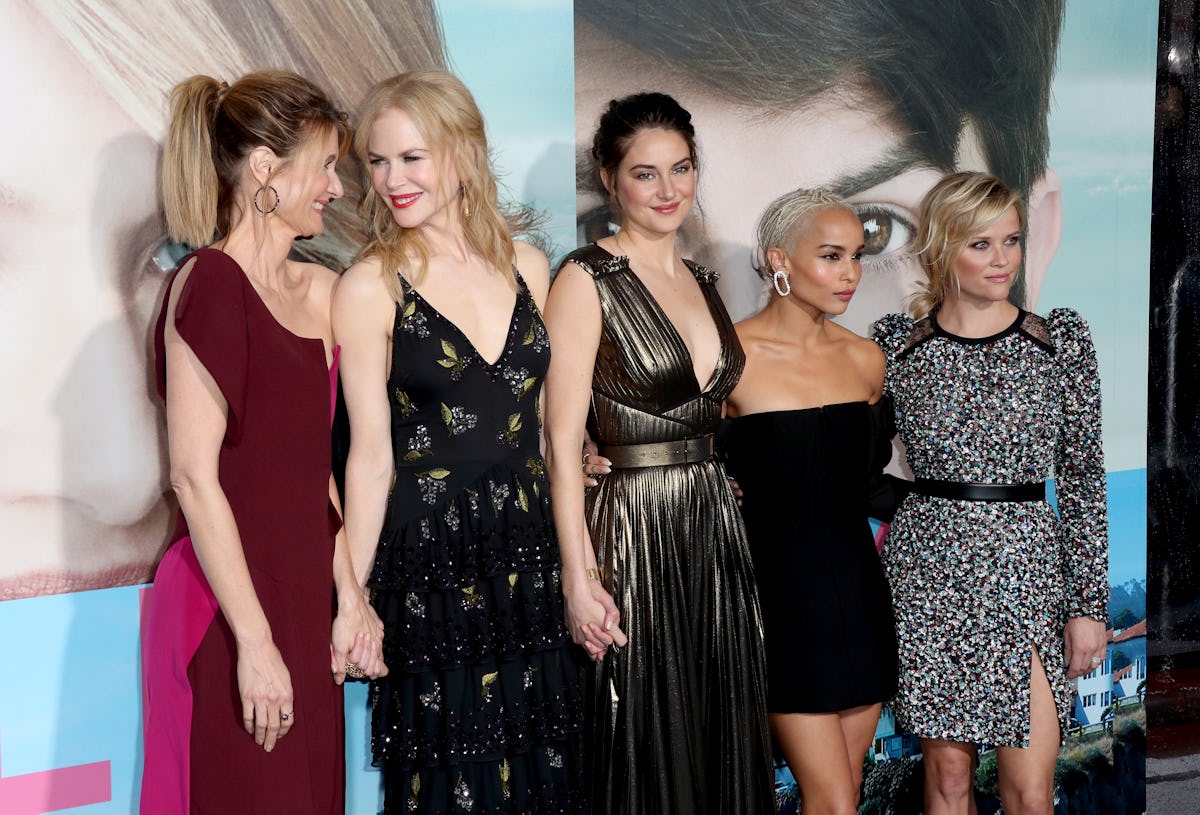 'Big Little Lies' Season 2 Is Coming & Twitter Is So Ready For More
Frederick M. Brown/Getty Images Entertainment/Getty Images
If you haven't heard already, via the internet or via me yelling from the rooftops, HBO's hit drama Big Little Lies is returning for another season. When we last left the Monterey crew, things were perfectly wrapped up, complete with a holiday bow. Some are wondering how a show with such a great ending can continue its story, but one thing is for sure: Tweets about Big Little Lies Season 2 prove fans are so ready for more — myself included.
We already have some juicy details about who's coming back and what we can expect from the plot next season. Personally, my number one request is that Reese Witherspoon, Nicole Kidman, and Shailene Woodley perform the rest of Rumors by Fleetwood Mac, this time with Zoë Kravitz. Hearing them sing "Dreams" changed my life and I. Need. More.
I had my own freak out moment when Witherspoon confirmed that the show would be returning, and clearly I'm not the only one. Fans took to Twitter to express excitement, as well as some skepticism about the show's ability to continue after such a knockout first season. Whatever your thoughts on the concept of a second season might be, I think it's safe to say we're all going to tune in. Come on, don't big little lie to yourself.
Witherspoon herself kicked off the excitement with a gif from season one (and, it's worth noting, from the "Dreams" scene. I don't wanna say we would be best friends, but the signs are all there).
From there, fans joined in with their own reactions.
Even those who don't feel a second season is necessary (can't relate) are planning to tune in. Personally, I think that in the current climate, there are worse things we could have than a second season of badass women who aren't here for abuse and misogyny, but that's just one woman's opinion.
Much of the excitement is swirling around the revelation that Andrea Arnold, who most recently directed American Honey and three episodes of the Emmy-winning series Transparent, will be directing the entire seven-episode season. Many feel that having a woman behind the camera will open the door for even further exploration into the complexity of women and their relationships with the different people in their lives. More women? I think I'm having heart palpitations! But, like, in a good way.
Other fans are doing some (suggested) directing of their own, offering up their takes on what new actors and actresses should join the cast. Oh yeah, did I mention there are four new characters? We're getting a new teacher at Otter Bay Elementary, another school employee, and finally, Bonnie's parents. I'm not ready!
Of course, in the midst of all the excitement are the jokes.
God, I love Twitter.
It's clear that Big Little Lies is a passion project for Witherspoon. According to Vanity Fair, the actress said in a statement that Season 2 "gives us the opportunity to delve deeper into the lives of these intriguing and intricate Monterey families and bring more of their stories back to the audience who embraced and championed them." In September, she spoke with Glamour about her production company, Hello Sunshine, which was behind Wild, Gone Girl, Hot Pursuit, and, of course, Big Little Lies. Witherspoon started the company — which she self-funded for years — in 2012, "to create more roles for women onscreen and behind the scenes," and it's safe to say she's done that. Big Little Lies reminded me how important my female friendships are to me, and I'm so excited to continue to support Witherspoon in her endeavor to bring us more of these stories.
And hopefully more Fleetwood Mac. Please.