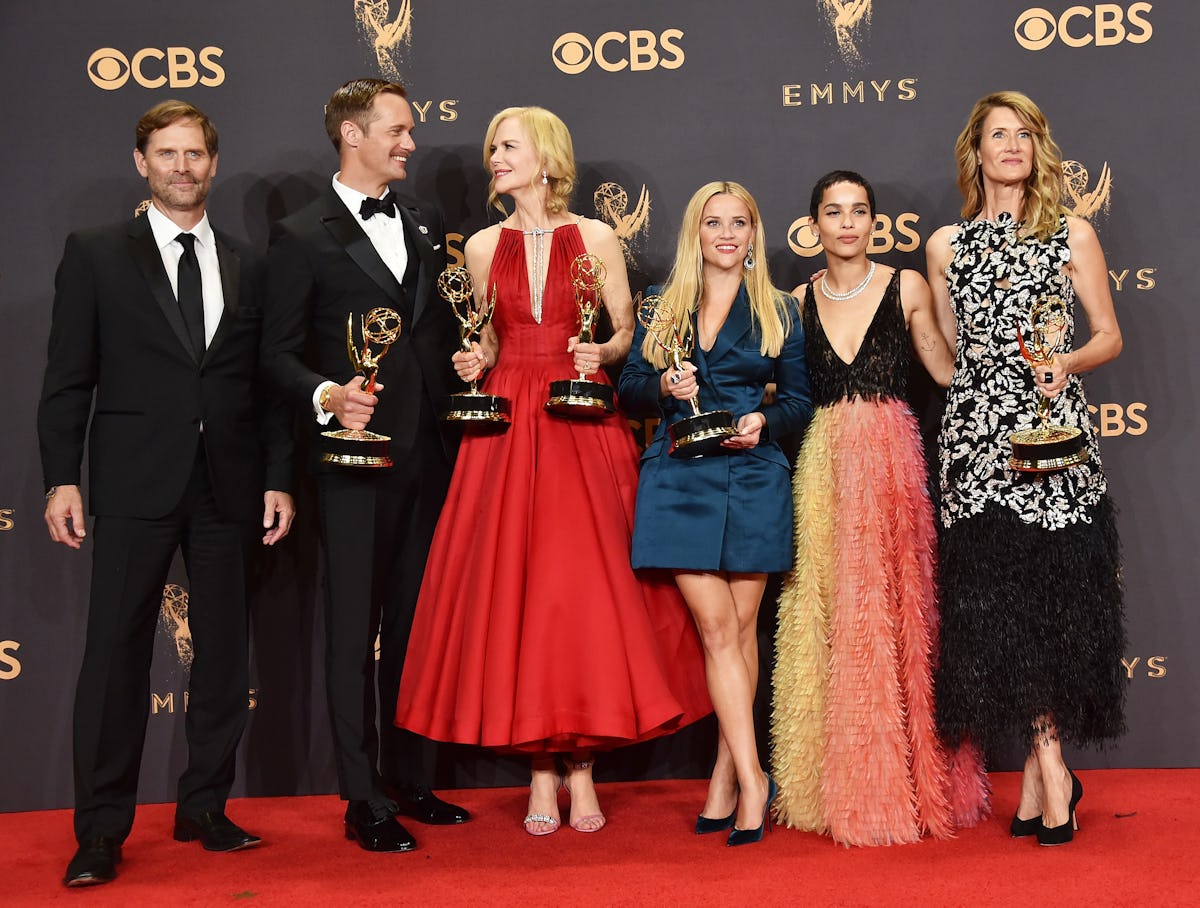 'Big Little Lies' Is Coming Back For Season 2 & So Are Your Favorite Actresses
Alberto E. Rodriguez/Getty Images Entertainment/Getty Images
Get ready for so much more Monterey drama. Big Little Lies is coming back for a second season, and the cast of Big Little Lies season 2 is sure to get you even more excited. And don't worry — almost all your favorites are returning.
There have been a lot of rumors and speculation over whether or not Big Little Lies would be returning for a round two. Reese Witherspoon finally put all of our burning questions to rest by releasing the following statement per E! News,
I'm thrilled to be bringing back this talented team of artists. It gives us the opportunity to delve deeper into the lives of these intriguing and intricate Monterey families and bring more of their stories back to the audience who embraced and championed them.
Nicole Kidman also added a few words, saying,
What a journey this has been. I'm so grateful to have this opportunity to keep exploring these female characters and make this series with my friends
So, who exactly from this talented team will be returning? Witherspoon, Kidman, Shailene Woodley, Alexander Skarsgard, and Laura Dern have all signed up for the upcoming seven-episode season. *Small spoiler* but this kinda begs the question of how Skarsgard will fit back into the Monterey world. I guess a lot of flashbacks will have to be in order.
Part of the speculation surrounding the second season revolved around the fact that the show was based on a singular novel. Where could the story go from there? Well, here's HBO's official season two synopsis:
The subversive, darkly comedic drama Big Little Lies will explore the malignancy of lies, the durability of friendships, the fragility of marriage and, of course, the vicious ferocity of sound parenting. Relationships will fray, loyalties will erode…the potential for emotional and bodily injury shall loom.
Draaaaaaama.
Twitter was naturally freaking out over the news. Though, admittedly, not everyone was super excited about the show's return.
Auditions are currently underway for key characters and, according to a casting breakdown obtained by Vulture, there are plenty of juicy parts to go around. So, if you are at all theatrically inclined (or just want to hang with Reese), you might want to hop on this ASAP.
HBO is reportedly casting the role of Michael Perkins, a new second-grade teacher at Otter Bay Elementary School who goes head-to-head with Renata (Laura Dern) over his global warming lessons. Apparently, his class is giving Renata's daughter panic attacks, so that becomes a whole thing. My money is pretty confidently on Renata winning any and all battles that might occur between the two.
The show is also allegedly looking to add another school employee, who becomes friends with Jane (Shailene Woodley), prompting the two to share their "deepest secrets" with one another.
So, I guess that means Jane has even more deep, terrible secrets? I am stressed just thinking about it.
Last but not least, we'll also get to meet Bonnie's (Zoë Kravitz) parents, Elizabeth and Martin Howard. Both Elizabeth and Martin maintain a cold and distant relationship with their daughter, until a family tragedy forces the trio to reexamine their relationships.
Intrigued yet?
For those of you who are really not feeling the idea of a second season, take heart. During an Aug. 27 interview with The Hollywood Reporter, Witherspoon assured everyone that there wouldn't be another season unless they had a good enough story. She explained,
It just comes down to, do we have the story? It was a stand-alone book and there was nothing after that, so it's up to the mind of the writer to create the vision for the journey of these characters. Right now, we have nothing. We don't have a book ... We're certainly not going to create it out of thin air.
Fingers crossed that the second season is indeed great. In the meantime, we should all probably binge watch the first season ASAP. You know, just for preparation sake.