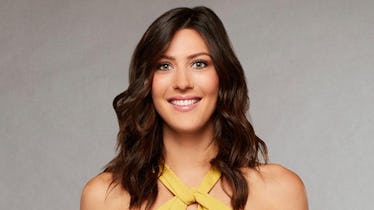 Tweets About Becca's Ex On 'The Bachelor' Prove Twitter Is So, So Torn
ABC
Fans have seen some dramatic moments throughout this season of The Bachelor. However, the drama became real during Week 9 when Becca's ex-boyfriend showed up in Peru to win her back. It was... hard to watch. Part romantic, but part painfully awkward — it was the scene fans have been waiting for all season. Tweets about Becca's ex on The Bachelor prove Twitter is so, so torn about the situation.
Just when fans thought the drama of Week 9 was going to be Arie telling Lauren and Becca that he's absolutely in love with them — Becca's ex, Ross, came into our lives.
He popped up out of the blue in Peru to stir up a little trouble. He was there with one mission: Get Becca back at all costs. First stop, Arie's hotel room. Why he went to confront Arie first confuses me, but he seems like he knew what he was doing. Ross told Arie that it is "his proposal to give." He and Arie had a long conversation about Becca, and basically Ross said he was going to go get his girl back.
Then, we saw a side to Arie that we don't see often — anger. He was "pissed off" about "the balls" Ross had to show up and do that.
Ross went and poured his heart out to Becca and gushed, "it always comes back to you." However, no matter what he threw at her, Becca shut Ross down.
The whole interaction was a little awkward, but also incredibly touching. I (along with everyone on Twitter) couldn't quite pinpoint how I felt about the situation. It doesn't help that Ross is a total babe. Tweets prove that we're all torn for Becca.
Fans are rallying to make Becca's ex the next Bachelor.
Although Becca made all the right moves with her ex in order to continue her relationship with Arie, it still put her relationship in a rocky spot. Becca did not allow Ross to go in her hotel room, and she rejected him on the spot. However, Arie could not get their history out of his head. He kept repeating the fact that they were together for seven years.
Although Ross' appearance shook Arie to his core, Becca went and settled his mind. I mean, it's not like he's juggling more than one person at a time. Oh wait...
Becca has been favorited to win since Week 1 so it's not surprising Arie looked past this bump in the road. He gushed about her sincerity during a blog post for People. Arie wrote,
From the moment I met Becca K., I knew she was really sincere about being on this journey. Just because I was now Bachelor doesn't mean I didn't have insecurities too, and that first night, she made me feel so comfortable. On a night where everyone's nerves, especially mine, were out of control, she stood out as someone I could be myself around. To me, that's so important in a relationship. It didn't hurt that she is also stunningly beautiful.
Arie ended up sending Kendall home during the rose ceremony which secured Becca's place in the finale. That means, she will be meeting his parents and possibly be getting engaged (or brutally dumped).
Fans knew before the season aired that Arie was torn between two women. He told People back in December,
I fell in love with two women, and I didn't know I was capable of that. I've never been in that situation, and it was really hard. And they were two very different women, and that's what made it even harder. I didn't know I was really capable of having strong feelings and being in love with more than one person, but that happened. The end was really difficult for me. And I think that it's because it's such a huge decision, and it's my life. But I'm happy, and I wouldn't have changed anything.
Most of the spoilers this season have seemingly come from Arie himself, but it looks like it's going to be pretty juicy. Good luck during the finale, Arie, you're going to need it.
Check out the entire Gen Why series and other videos on Facebook and the Bustle app across Apple TV, Roku, and Amazon Fire TV.