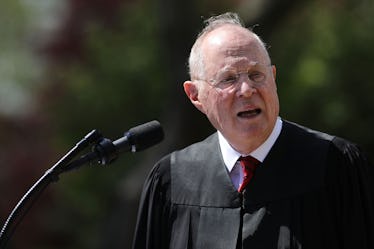 Supreme Court Justice Kennedy's Retirement Has Everyone Going, "What Next?"
Chip Somodevilla/Getty Images News/Getty Images
Another day, another piece of "ugh, really" news out of the Trump administration. Supreme Court Justice Anthony Kennedy announced his retirement on Wednesday, June 27, and Twitter breathed a deep, heavy, beleaguered sigh. These tweets about Anthony Kennedy's retirement are asking, seriously, world, really?
On Wednesday afternoon Kennedy, 81, released a statement announcing his retirement, effective at the end of July 2018, per the Associated Press. In a short resignation letter to President Donald Trump, Kennedy announced that his retirement would be effective July 31.
Kennedy's departure will have a huge impact on the makeup of the Supreme Court. Kennedy, a Republican appointee, has long been a swing vote between the liberal and conservative justices. With Kennedy's departure, the seat becomes open for a new appointee, who will be nominated by President Trump. Trump has frequently stated his intentions to nominate a conservative nominee who would overturn major decisions like abortion-rights case Roe v. Wade, meaning that Kennedy's replacement will almost certainly shift the court much further to the right. The vacancy left by Kennedy will be Trump's second chance to fill a Supreme Court seat, after he appointed Neil Gorsuch in early 2017.
Naturally, many were horrified. On social media, many people retweeted or commented on the news with dismay. What else is 2018 going to throw at us? Seriously, guys, I want to know too.
Some people — appropriately enough for talking about a Supreme Court justice seat — brought up precedent when literally discussing what's next. Namely, that time back in 2016 where the Republican party refused to let a sitting president fill an empty seat on the court. You remember that one? So does everyone else.
Twitter is, of course, talking about one-time Supreme Court justice nominee Merrick Garland, who was nominated to the court by Barack Obama back in March 2016 after the unexpected death of conservative Justice Antonin Scalia. But Senate Majority Leader Mitch McConnell argued that the empty seat had come too close to the presidential election, and that the seat should be filled by the next president to take office. McConnell led Republicans in refusing to hold hearings for Garland, and eventually, the nomination expired after Trump took the presidency. In January 2017, Trump nominated conservative Gorsuch to the court, and Gorsuch was confirmed on April 7, 2017.
A lot of people thought that, in light of these facts, there was only one person who ought to be nominated for Kennedy's seat.
Sadly, it's pretty unlikely. Trump already has a shortlist of candidates for the Supreme Court, and Garland, a moderate, isn't on it.
In a statement after Kennedy's announcement, President Trump said that the search for a new justice would begin "immediately." He added, "we're going to pick somebody who will be just as outstanding."
But considering how terrible a second Trump Supreme Court pick could be for things like abortion rights, affirmative action, or anti-discrimination laws, it's unsurprising that advocates are already speaking against it. In a statement obtained by Elite Daily, NARAL Pro-Choice America President Ilyse Hogue said that reproductive rights are in "dire, immediate danger." She wrote,
Today, Justice Kennedy announced his retirement, and because President Trump will nominate the next Supreme Court Justice, a woman's constitutional right to access legal abortion is in dire, immediate danger — along with the fundamental rights of all Americans ... Our country faces a moment of deep crisis—a crisis of rights, of values, and of leadership. The deeply-divided decisions from the Supreme Court this week are a clear warning that our most cherished values are in jeopardy, and now hang in the balance. Women will not go back to the days when abortion was illegal in this country.
So can a Trump pick be stopped? Hey, it's happened before. Gird your loins, everybody. This isn't over.