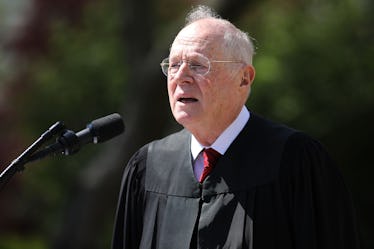 This Is Why Justice Kennedy Is Stepping Down From The Supreme Court
Chip Somodevilla/Getty Images News/Getty Images
On Wednesday, June 27, Justice Anthony Kennedy announced that he will be retiring. The justice has been on the court since 1988, and the reason why Justice Kennedy is stepping down from the Supreme Court is fairly simple. Kennedy made the announcement of his retirement hours after the court ended their session for the year, which also came after news had spread that no justices would be retiring.
Kennedy's retirement was announced in a news statement from the Supreme Court Office of Public Information, according to Bloomberg Law reporter Kimberly Robinson, who tweeted an image of the release. In that statement, Kennedy is quoted as giving his reason for stepping down.
"It has been the greatest honor and privilege to serve out nation in the federal judiciary for 43 years, 30 of those years on the Supreme Court," he said, according to the statement.
The statement added that Kennedy had a "deep desire to spend more time with" his family, although they were "willing for him to continue to serve." This, apparently, is what led to his decision to retire from the Supreme Court. As noted in the statement, he was nominated to the court by President Ronald Reagan and took office in 1988, and his last day on the court will be July 31, 2018, making it a full 30 years on the court for Kennedy. By July 31, Kennedy will be 82 years old.
Kennedy had initially written a letter to President Donald Trump on Wednesday, June 27 to notify him of his retirement, which was posted to Twitter by NPR's Nina Totenberg. In it, the justice wrote,
For a member of the legal profession it is the highest of honors to serve on this Court. Please permit me by this letter to express my profound gratitude for having had the privilege to seek in each case how best to know, interpret, and defend the Constitution and the laws that must always conform to its mandates and promises.
As the law stands, an appointment to the Supreme Court is a lifetime one. That means that once you are appointed, there is no term limit when you have to step down. Typically, what this means is that justices stay on the court until they quite literally cannot anymore, whether by age, illness, or — as in the case of Justice Antonin Scalia — death. This is why you have things like Justice Ruth Bader Ginsburg saying that she will stay on the court "as long as I can do the job full steam."
In terms of who will replace Kennedy and when, it comes down to a few factors. First, President Trump has to nominate somebody. He said on Wednesday, according to the Associated Press, that he will pick his nomination from a list of 25 people who he had previously considered for a nomination. He added that this process will begin "immediately."
After that happens, it goes to Congress, who has to then approve Trump's nomination in order for the person to be appointed. If you recall, when this happened with President Barack Obama's nomination of Merrick Garland, the Republicans in Congress blocked the nomination until after the 2016 presidential election. That is how Trump was able to appoint one person, Neil Gorsuch, to the court already. Now, he has a second opportunity to do so. For his part, Sen. Mitch McConnell, who led the charge in blocking Garland's nomination, is saying that the Senate will vote on the nomination in the fall, putting the vote potentially before the midterm elections, which could swap the majority in Congress.
As for Kennedy himself, while he was appointed to the court by a Republican president, he acted as a sort of swing vote in the court over his 30 years. This was especially true as it pertained to cases surrounding abortion and reproductive rights. Still, he mostly stuck with the more conservative justices on the court, giving the conservative side a 5-4 majority. This balance is unlikely to change with Trump's nomination.