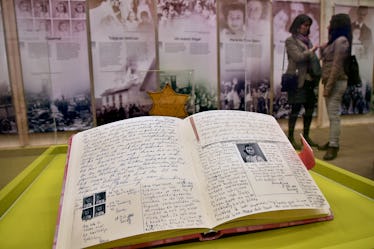 This Anne Frank Costume Was For Sale This Year & The Internet Is Absolutely Furious
GUILLERMO LEGARIA/AFP/Getty Images
You know something is truly awful when Anthony Scaramucci's new media venture takes issue with it. In what was a terrible car crash of an idea, an Anne Frank children's Halloween costume has now been pulled from shelves following backlash. People were, not surprisingly, upset that this costume existed in the first place and took to social media to express their outrage.
The costume first appeared on websites like HalloweenCostumes.com and Amazon.com, according to Forbes. Social media users began pointing out the costume back in August, and since then, the backlash has been building. The costumes were pulled from HalloweenCostume.com's shelves as of Sunday. And we say, good riddance.
This botched Anne Frank costume is one for the ages. It comes with a beret, shoulder bag, dress and "destination tag," and while some outlets are referencing the Holocaust victim, others are marketing it as a "World War II Evacuee Girl" costume. Add it to the list of things no one should ever use for Halloween, joining no-brainers like Hurricane Harvey costumes and Kim Jong Un "Rocket Man" costumes.
But you have to admit, while the optics aren't great for any of them, dressing your daughter in an Anne Frank costume is uniquely tone-deaf.
On Tuesday, Oct. 17, even the media outlet of Scaramucci, who was fired after serving 10 days as White House communications director, tweeted about the controversial costume.
Before you erupt in standing ovation, you should probably know that this same outlet, moments later, posted a public poll asking how many Jews died in the Holocaust, but that's a story for another time. (It was later taken down and the person responsible apologized.)
We're not saying all the reactions to the Anne Frank costume were appropriate or sound (see above). But many more people — who notably did so without tasteless and unnecessary Holocaust references — joined in the outcry about the costume.
One user pointed out the hypocrisy in condemning Anne Frank costumes but not getting how Native American costumes are just as offensive.
And they have a point. There are still Pochahontas and Jasmine ensembles aplenty (even Target has them), in case you need to see more people wearing culturally insensitive and overpriced costumes.
Others chimed in with a similar tune, saying that, while the Anne Frank costume was offensive, it was hardly the first time a cultural icon has been co-opted for the sake of Halloween (or its money-making ventures).
Many users made similar points about the double-standard that comes along with Halloween around costumes.
This user has even made the poor sales decision into an adjective.
The amount of cash Americans sink into Halloween costumes continues to rise every year. According to the National Retail Federation, Halloween spending and participation are set to break records this year. Americans are expected to spend a whopping $9.1 billion, up from $8.4 billion last year, while 179 million people are expected to celebrate, an increase of 8 million compared to 2016. The highest share of speding, $3.4 billion, of that projected total is for costumes alone. That's more than Americans spent on all Halloween-related spending in 2005.
Per CBS, Ross Walker, the spokesperson for Fun.com, HalloweenCostumes.com's parent company, said that their company sells costumes for all sorts of purposes and occasions and that the costume had been pulled. He tweeted out a response saying,
According to Forbes, one company still had a "World War II Evacuee Girls Costume" for sale on its site. Amazon.com still appears to have the costumes for sale on the online marketplace as of publication.
In an article by The Jewish Chronicle, Karen Pollock of the Holocaust Educational Trust was quoted saying,
Why would anyone want to 'dress up' as Anne Frank, a young girl murdered by the Nazis, for Halloween ... It is utterly inappropriate, offensive and quite simply beggars belief. The Holocaust is not a joke — this company needs to have a serious rethink.
With two weeks to go until Halloween, it's unclear how many people have already puchased the outfit and how many more still will.