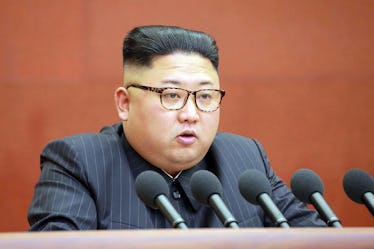 Kim Jong Un "Rocket Man" Costumes Are Not OK & Here's Why
STR/AFP/Getty Images
President Donald Trump and North Korean leader Kim Jong-un have had an interesting relationship recently, to say the least. The two have been going back and forth, throwing aimless threats of nuclear strikes, with Trump poking fun and calling Jong Un "Rocket Man." The North Korean leader appears to have no intention of backing down from his weapon programs and threats to the U.S., and Trump has threatened to rain "fire and fury" on North Korea if they don't surrender. Basically, two world leaders have seemed to have their fingers ready on the trigger and could send these two countries into nuclear war at any moment. This has been a hot topic as of late, and with Halloween just around the corner, people are attempting to lighten the mood on a serious issue. While other controversial costumes may be acceptable this year, Kim Jong Un "Rocket Man" costumes are not OK.
Trump is known for creating nicknames for people he's not fond of. For example, there's "Little Marco" for Marco Rubio, "Lyin' Ted" for Ted Cruz, the famous "Crooked Hillary" for Hillary Clinton, and "Crazy Bernie" for Bernie Sanders.
Trump's nickname for Jong-un first came about in a tweet, in which he said he spoke with President Moon Jae-in of South Korea and asked him "how Rocket Man is doing."
He later made the nickname official when he used it during his first address as president to the United Nations general assembly in New York City on Sept. 19. During his address, he spoke about the nuclear threat situation with North Korea and other nations, saying,
We will have no choice but totally destroy North Korea. Rocket Man is on a suicide mission for himself and for his regime.
After hearing the nickname, people were shocked that Trump could add more ridicule to the already-existing circus of his presidency, especially in front of world leaders at such a prestigious meeting as the United Nations general assembly.
In response to the nickname, people on Twitter are anticipating the "Rocket Man" costume to take over this Halloween as one of the popular picks. Some are even expecting a spinoff of Elton John's famous 70s' "Rocket Man" look, along with first lady Melania Trump's "Hurricane Barbie" look.
This isn't the first year that people have thought to dress up as the North Korean leader. In 2013, a Reddit user dressed up as Kim Jong Un in an uncanny resemblance. There's also the creepy Kim Jong Un masks that gained popularity for its realistic resemblance that Landon Meier, a Denver-based artist made for his company Hyperflesh. If that's too realistic, there are also the typical masks that are sold on Amazon.
There have also been options for actual "little rocket man" costumes, with kids version of the Kim Jong Un outfit available.
It's hard to deny that the nature of nicknames of world leaders are funny, as well as the idea that these two powerful world leaders are acting like children playing with toys... that happen to be nuclear weapons that put millions of people's lives at risk. This seemingly light-hearted back-and-forth between Trump and Jong-un is entertaining, but seriously concerning. The scariest part about the situation is the unease in knowing either one of them could make a nuclear move at any moment.
So, for the sake of legitimate threats and decency, let's collectively decide to leave political topics that are a little too real, like this one, out of our Halloween costumes this year. There are plenty of other funny political costumes that can be humorous, but this is not one of them.