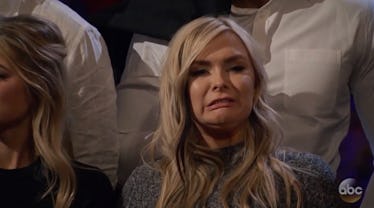 Ally On 'Bachelor Winter Games' Puked During A Kissing Competiton & Fans Are Ruthless
ABC
If you're watching Episode 3 of Bachelor Winter Games, you know tonight is a ROUGH night for contestant Ally Thompson. These tweets about Ally puking on Bachelor Winter Games are so brutal and will definitely make you never want to partake in a kissing competition again.
During the episode, the remaining couples on the show were asked to makeout in front of a panel of judges and be ranked by chemistry, technique, and body language. JoJo Fletcher, Bachelor Arie Luyendyk Jr., and Rachel Lindsay were selected to be the judges of the evening, which was completely awkward because they were watching their old exes lock lips with new baes.
Things were cringeworthy before the contestants even swapped spit – Luke Pell was reunited with the woman who broke his heart (HEY, JOJO!), Dean was reacquainted with the Bachelorette who sent him home (HEY, RACHEL!) and Bibiana literally let out three curse words when Arie walked through the door.
Just when you thought things couldn't get more awkward, they did. Dean and Lesley were the first couple to kiss in front of everyone and it was SO cringeworthy. They performed a half-assed dance routine before Dean lifted Lesley over his shoulders and made out with her face. Rachel was NOT impressed. Later on, while Bibiana and Jordan were locking lips, the camera panned over to Ally's face and she looked like she was going to vomit. Was she super nervous about kissing Josiah? Were Bibi and Jordan making her feel sick? What was going on, Ally?
This photo of her trying to keep down her breakfast sums up everything:
Yikes, girl. Not a good look!
As soon as Bibiana and Jordan finished their kiss, Ally ran out of the room to go to the bathroom. The camera followed her in, and we got a nice little shot of her puking. THANKS, ABC! Obviously, Twitter had strong feelings about the whole thing.
However, puke didn't hold Ally and Josiah back from their kiss! Nope, the two decided to hardcore makeout right after Ally finished wiping the leftovers off her face. Did Twitter find it gross? Apparently. Was it also pretty sweet? Kind of!
In the end, the judges ranked Kevin and Ashley I. as the couple with the best kiss, with Luke and Stassi coming in second place. Courtney and Lili, Dean and Lesley, and Bibiana and Jordan also made the cut, so none of these fan-fave couples went home this evening. Unfortunately, it looks like JoJo, Rachel, and Arie didn't love watching Ally and Josiah make out after the puke-sesh. The couple was sent home immediately afterwards. Did they think it was a sign?! If my girlfriend ever throws up before kissing me, I guess I'll take the hint.
As of now, only five couples remain, and we are still waiting for one man and one woman to be declared the King and Queen of Bachelor Winter Games. My prediction? Kevin and Ashley I. COME ON, WE HAVE TO GIVE IT TO THIS GIRL! Ashley has been on like, every single Bachelor spinoff since 2005. She's smiling more than crying this time around – she even said it herself! As of now, it's unclear which couples make it to the end. JoJo, Rachel, and Arie thought Bibi and Jordan lacked a bit of chemistry. They also thought Stassi was feeling her relationship with Luke more than he was. Will these lovebirds make it to an engagement? Will they break up and all just hookup this summer in Paradise?
I guess we'll all just have to tune in on Thursday night and find out!