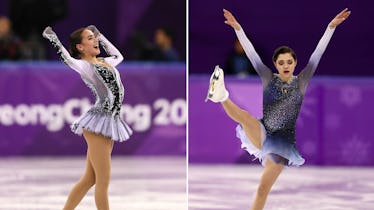 Alina Zagitova & Evgenia Medvedeva Are Facing Off & Twitter Is So Excited
Jamie Squire/Getty Images Sport/Getty Images /Jamie Squire/Getty Images Sport/Getty Images
Things are heating up in women's figure skating at the 2018 Olympics. There's a fierce competition going down between Russian competitors and besties Alina Zagitova and Evgenia Medvedeva as they head in to the free skate portion on Feb. 22. Some people are saying that there are other people competing also? I don't know anything about that. Judging by these tweets about Alina Zagitova and Evgenia Medvedeva and their free skate performances, Twitter doesn't know anything about that either.
Zagitova and Medvedeva stole the show during the women's short program in PyeongChang on Feb. 21. The 18-year-old and current world champion Medvedeva broke her own world record from the earlier team event when she snagged a score of 81.61, but she didn't get to hold onto it for long. Fellow competitor 15-year-old Zagitova swooped in moments later and beat her out with a scored of 82.92 with her routine set to "Black Swan," putting her in the lead as the two Russian gold-favorites head into the free skate portion.
They might be neck-in-neck and rivals on the ice, but when they are not competing Zagitova and Medvedeva are actually very close friends. After the short program on Feb. 21, Zagitova told NBC, "Zhenya congratulated me, and I congratulated her yesterday. We've really bonded during these competitions." Zhenya being Medvedeva's Russian nickname.
Here they are dancing:
And Twitter loves them just as much for their friendship as for their performance.
But they also definitely, definitely love the performances.
How can you not?
Some people were Team Zagitova.
And some people were Team Medvedeva.
The performances got people hype.
Zagitova and Medvedeva are also training partners under the same coach, Eteri Tutberidze. To get as good as they are, they probably spend a lot of time training so it's no surprise that the two have become so close.
In an interview with Reuters on Feb. 21, Medvedeva explained that they are still young and so they are friends who gossip and share secrets, but on the ice it's a competition. She said,
We're humans and we are friends, we're young girls. We can talk about everything to each other. When we take the ice, it's a sport, this is a real sport, and we must fight. Every competition is like a little war.
The two Russian phenoms are pretty damn fierce and sometimes it is hard to remember that they are still super young and probably just want to hang out and have girl talk before they turn into scary (but graceful) skating machines during the games.
Both Zagitova and Medvedeva had their eyes on gold heading into the Feb. 22 free skate competition. Even after a mind-blowing performance by Zagitova, the young skater was still thinking about how she could have done better.
"I could have had more speed going into the jumps, the landings of the jumps could have been smoother, there could have been more emotions," Zagitova told CNN after the women's short program.
She beat out a two-time world champion. Man, where can I find that sort of drive?
Even though Medvedeva didn't end up snagging the win, she still had a stellar performance, but with bestie Zagitova on her tail she knows that she has got to fight even harder and nail every move. She told CNN,
I am not chasing after numbers, but after inner feelings. Today I felt better than in the team event, but I still could have had a higher score if the (jump) combination would have been better.
Both skaters made a case for why they deserve gold, but it all came down to the numbers.
Both Medvedeva and Zagitova took the exact same score in the free skate, down to a 0.01 of a point. With both skaters awarded a 156.65, Zagitova's 1.31 point lead tipped her over the edge — and gave her the gold. Medvedeva took second place with silver.
People had feels about the results.
Let's just hope that whatever happens when PyeongChang 2018 comes to an end, Zagitova and Medvedeva stay friends — because, well, I mean where are you gonna find another person who is that talented and can put up with all your hustle? It seems totally exhausting.
Congrats to both Zagitova and Medvedeva on their medals!