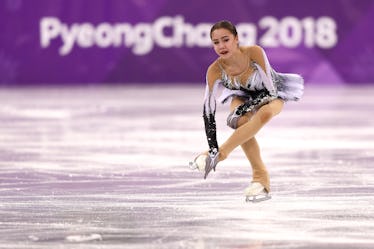 This Teen Set A World Record During Her Short Program & The Vid Is Astonishing
Jamie Squire/Getty Images Sport/Getty Images
On Wednesday, Feb. 21, 18-year-old Russian figure skater Evgenia Medvedeva set a world record and took the lead in the women's short program at the 2018 Winter Olympics. Shortly after, her 15-year-old teammate Alina Zagitova did one better. The video of Alina Zagitova's short program performance shows the moment she completed her own record-breaking routine, minutes after the previous record had been set by her teammate.
Zagitova's routine received of a score of 82.92 at the Gangneung Ice Arena in South Korea, putting her in the lead ahead of Thursday's free skate portion of the women's competition. Still, the teen sensation said she has plenty of room for improvement for a performance that had "a few imperfections."
"I'm happy I was able to cope with my nerves and skate well, set a world record," Zagitova said after her short program, per ESPN, "but I've still got something to work towards and I can't afford to relax."
Just three skaters hit the ice between the time Medvedeva performed her routine and the moment Zagitova bested that routine. Much like her younger teammate, the older of the two Russian competitors did not seem too elated by her performance.
"I'm satisfied with my performance today," Medvedeva said after her routine. "It was not my best, but it was OK. All the battle is still ahead."
The story of Zagitova and Medvedeva — and their reactions to their record-breaking performances — pretty much tells the story of the women's individual figure skating competition at the PyeongChang Olympics.
At the top, there are two Russian athletes, sharing the same coach, pushing each other to new boundaries, fighting for gold. And then, there's everyone else. Zagitova currently sits over four points ahead of third place, which belongs to Canada's Kaetlyn Osmond heading into Thursday's free skate.
Medvedeva is just under three points ahead of Osmond.
"We are friends. We are young girls. We can talk about everything to each other," Medvedeva told ESPN the Magazine. "When we take the ice, this is sport. We must fight. Every competition is a little war."
Zagitova and Medvedeva's dominance makes it almost certain that "Olympic Athletes from Russia" (OAR) will win their first gold medal of the 2018 Winter Games. That would make for an interesting sight on the medal podium afterward.
Before the Olympics, the Russian Olympic Committee was banned from the PyeongChang Games for use of performance enhancing drugs. The punishment? Some Russian athletes are competing in PyeongChang, but their successes will not be credited to Russia, nor will the Russian flag be raised during a medal ceremony that features a Russian athlete.
In the event that either of the two dominant Russian skaters wins gold, an Olympic flag will be raised instead, while the Russian national anthem will be absent from the ceremony.
A win for Zagitova would mean success for an athlete who says she nearly quit the sport.
"The breaking point happened when my coach told me that I needed to leave," Zagitova told ESPN the Magazine. "I cried a lot. For three or four days, I did not practice and it made me realize how much I love this sport. I went back to my coach and said I'm going back to my hometown. That's it, I'm quitting figure skating. But my coach told me, let's try it again. And I was very happy. I had butterflies in my stomach. It wasn't for that moment, maybe I wouldn't be here today."
Now Zagitova is on the verge of accomplishing the same feat as American legend Tara Lapinksi at the 1998 Winter Olympics: winning Olympic gold as a 15-year-old.