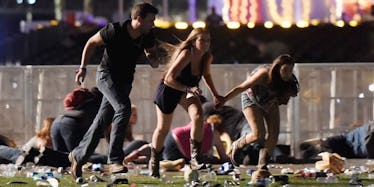 This Tweet About The Vegas Shooting From A Newtown Victim's Mom Will Make You Think
David Becker/Getty Images
At least 50 people have been killed and more than 400 are injured following a mass shooting in Las Vegas that is now the deadliest mass shooting in U.S. history. A 64-year-old white male started shooting into the crowd of the Route 91 Harvest music festival, held across from the Mandalay Bay hotel on the Las Vegas Strip, at 10:08 p.m. PT on Sunday, Oct. 1, according to reports. Country singer Jason Aldean was performing when the shooting began. People have been taking to Twitter to respond to the tragic event, and the mother of a Sandy Hook Elementary School shooting victim is among them. Nelba Márquez-Greene's tweet about Las Vegas shooting is a powerful response to this tragedy. (UPDATE: At least 58 people were killed and over 515 were injured in the shooting, according to Las Vegas Police Department Sheriff Joe Lombardo. The shooter has also been confirmed dead and is not believed to have a connection to any terrorist group.)
She said, "In America we value guns, flags & fake acts of patriotism over people, pain & real acts of courage. #LasVegas #TakeAKnee #EndGunViolence." According to her Twitter bio, Márquez-Greene's daughter was among the children killed in the Sandy Hook Elementary School shooting in Newtown, Connecticut, in 2012. Her son survived. Márquez-Greene has been tweeting all morning in response to the Vegas shooting. As the mother of one of the Sandy Hook victims, she has been advocating to end gun violence ever since the Newtown shooting. In one of her tweets this morning, Márquez-Greene says Congress needs to act on proper gun control policy.
One of her most heartbreaking tweets reads, "You don't recover from this- as a mother, brother, father. You manage. But there is no recovery. I am heartbroken. #LasVegas #Newtown."
Jason Aldean also responded to the tragic event in an emotional Instagram post this morning, Monday. Oct. 2. He said,
Tonight has been beyond horrific. I still dont know what to say but wanted to let everyone know that Me and my Crew are safe. My Thoughts and prayers go out to everyone involved tonight. It hurts my heart that this would happen to anyone who was just coming out to enjoy what should have been a fun night. #heartbroken #stopthehate
According to a statement from the Las Vegas Metropolitan Police Department, an estimated 406 people were transported to hospitals following the shooting. Sheriff Joseph Lombardo said in media briefings on Sunday, Oct. 1 and the early morning of Monday, Oct. 2 that the shooter was believed to be acting alone, but authorities were looking for a potential suspect who was reportedly the shooter's roommate and may know more information. According to reports, the shooter died on the scene.
Lombardo also said police believe two off-duty Las Vegas police officers were among those killed at the concert and two police officers responding to the incident were reportedly among those injured.
If you're wondering how you can help the Las Vegas shooting victims, one of the most effective things you can do right now is donate blood. There are six donation centers in Nevada located in Carson City, Henderson, Craig Street in Las Vegas, Reno, Sparks, and Charleston Boulevard in Las Vegas that will be helping to supply nearby hospitals with the blood they need. If you're not in Nevada, you can post the information about donation centers on your social media profiles to help spread the word.
You can also search for any GoFundMe pages that might have been created in the wake of the shooting, and you can also donate to aid organizations stationed in Las Vegas. Volunteers in Medicine of Southern Nevada is an organization dedicated to providing "quality health care and support for people without access to health care in Southern Nevada within a culture of caring," according to its website. This organization will undoubtedly be providing aid to those affected.
If you do share information about the incident online, be sure it is verified by a reputable source, as there have already been hoaxes on the internet in the aftermath of the Vegas shooting. Internet trolls share a lot of incorrect information during times like these, so be sure to verify your sources before sharing any information or donating money.