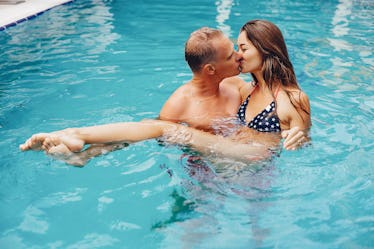 The Outdoor Date Idea You Should Try, Based On Your Zodiac Sign
Shutterstock
Want to know the trick to making a good date even better? Take it to the great outdoors. In all seriousness, outdoor activities kick the fun up a notch, especially when the weather is nice and you can take advantage of the fresh air. Some of my favorite memories of dates involve picnics on the lawn, hikes through the woods, and eating ice cream as it dripped down my fingers on a hot summer afternoon. The outdoor date options based on your zodiac sign are basically endless.
When you think of outdoor dates, your mind might immediately go toward athletic pursuits like hiking or biking, which aren't everyone's cup of tea. But in reality, you can do so many things outdoors — including being super chill and lazy together. (Can I get a praise hands emoji?) Whatever floats your boat, there's an outdoor date idea with your name on it. And if you want to figure out which one you should try, look no further than your own birth chart.
As you plan your next date, use your zodiac sign as a guide for what you and your partner should do together. With a little creativity and a sense of adventure, you can shake up your normal routine and plan something you'll both remember for a long time. Get out there and have fun!