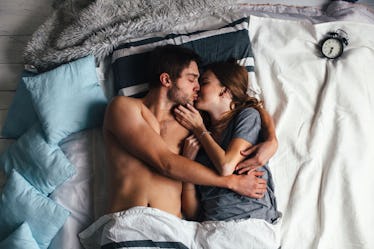 4 Sex Moves To Try That Maximize Your Pleasure If He's On The Smaller Side
You can check out a guy's shoe size, eyeball the size of his hands, or make a guess based on his height but there really is no way to know what they're working with down there until you two get down to business. While it might seem like a guy's size is everything, it's not! There are many amazing sex positions if he has a small penis. The truth is that size doesn't matter. Enthusiasm does.
Now, let's say your partner is packing minimal heat and you want to shake things up in the bedroom. I reached out to Stephanie Alys, co-founder and Chief Pleasure Officer of MysteryVibe, for her expertise on all things sexy and size-y. Before we get into all the good good she has to offer, she says, "It's important to acknowledge there is no direct relationship between penis size and sexual pleasure. The belief that a big penis reflects superiority in the bedroom stems from patriarchal ideals that are overall harmful to our sexual attitudes." So delete that false notion from your brain, know that every body is different, and if you know what you like in the bedroom, you can totally get fireworks from a sparkler!