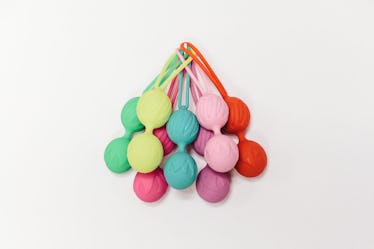 A Sexpert Explains The Easiest Ways To Introduce Sex Toys Into Your Relationship
If you're having sex with someone, especially if it's a new person in your life, you may feel a little bit awkward about bringing something else – like a sex toy – into the bedroom. You don't want your partner to feel like their ~skills~ aren't sufficient enough for you, and that (gasp) an inanimate object does more for you, pleasure-wise than they do. But, know that it's a totally warranted and normal desire to introduce sex toys in the bedroom, which can help spice things up for sure (and ramp up the orgasms). You're not saying to your partner "You're not good in bed," you're saying "This could make things hotter for both of us," which is beneficial all around.
I spoke to sex expert and therapist Rachel Hoffman on ways you can introduce sex toys without it being awkward or uncomfortable for you. As a therapist, she says that clients come in all the time asking about this subject, so she definitely has it covered, and you are not alone in your quest to bring up the topic with your partner. It's actually more common than you think. Here's what she had to say.