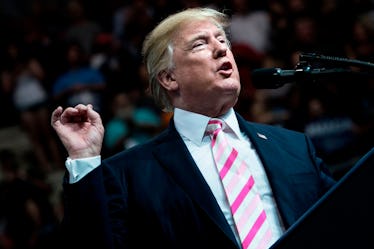 Trump's Speech About The Las Vegas Shooting Spoke Of "Sadness, Shock, And Grief"
BRENDAN SMIALOWSKI/AFP/Getty Images
On Monday, Oct. 2 at 10:30 a.m. ET, President Donald Trump addressed the nation following the tragic Las Vegas mass shooting. Trump's speech about the Las Vegas shooting was his second major address to the United States following a mass shooting. More than 50 people died and at least 400 were injured in the shooting on Sunday night, Oct. 1.
Update: Las Vegas Police Department Sheriff Joe Lombardo has confirmed that at least 58 people were killed and over 515 were injured in the shooting. The shooter has also been confirmed dead and is not believed to have a connection to any terrorist group.
Earlier: The shooting took place just after 10 p.m. PT on Sunday night during the Route 91 Harvest festival, an outdoors country music festival that had been staged near the Mandalay Bay Resort and Casino at the south end of the Las Vegas Strip. The shooter fired from the 32nd floor of Mandalay Bay into the crowd outside. SWAT teams immediately entered the hotel, and the shooter was found fatally shot. He was identified as a 64-year-old Nevada local. The shooting is not believed to be connected to terrorism.
Hours before his speech, Trump expressed his "warmest sympathies" in a tweet on Monday morning. With more than 50 people dead, this is the biggest mass shooting in modern American history, following the June 2016 shooting at Pulse nightclub in Orlando, Florida, where 49 people died. Trump's comments were highly anticipated as he has been an advocate of the National Rifle Association (NRA) and gun rights, and has largely stayed silent on shootings that were not connected to terrorism.
Trump opened his address on Monday morning by saying that the nation is experiencing "sadness, shock, and grief" following the deadly shooting. He announced that the American flag will be flown at half-staff and that he will be visiting Las Vegas on Wednesday to meet with victims and families.
In the speech, Trump praised first responders and law enforcement for their swift response to the shooting, adding that the FBI and Homeland Security are working with local law enforcement to assist in the investigation.
Trump called the shooting "an act of pure evil" and also spoke about the comfort of religion in times like this, saying there are prayers going out for the victims and their families.
"Scripture teaches us, 'The Lord is close to the broken hearted and saves those who are crushed in spirit,'" Trump said. "We seek comfort in those words for we know that God lives in the hearts of those who grieve."
Trump also took the time to address unity within the United States.
"In moments of tragedy and horror, America comes together as one. And it always has," Trump said. "We call upon the bonds that unite us, our faith, our family, and our shared values. We call upon the bonds of citizenship, the ties of community, and the comfort of our common humanity."
Many people were confused by Trump's use of religion and the Bible in his speech, and Twitter lit up once he spoke about it. The general consensus — especially from those on the more liberal side — was outrage that Trump would talk about Christianity (even going so far as to quote from the Bible) but not address gun control in his speech. The president went on to say that he and first lady Melania Trump are praying for the victims and their families.
It is tradition for presidents to comfort Americans following tragedies such as these, and this instance was no different. Trump said,
In times such as these, I know we are searching for some kind of meaning in the chaos, some kind of light in the darkness. The answers do not come easy. But we can take solace knowing that even the darkest space can be brightened by a single light and even the most terrible despair can be illuminated by a single ray of hope.
As this is now seen as the deadliest mass shooting in American history, many people are shocked and mourning. If you are looking for something to do, there are ways to help the victims.