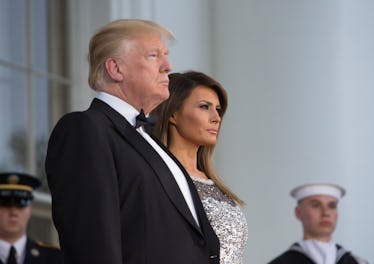 Melania Trump Was MIA At White House Event After More Stormy Daniels News Broke
Pool/Getty Images News/Getty Images
A bombshell Rudy Giuliani interview on Wednesday night, May 2, set the tone for Thursday's news cycle, which took an early twist when President Donald Trump confirmed the biggest revelation of the interview: that the president had reportedly reimbursed his lawyer for money paid to a porn star alleging an affair. (Trump has repeatedly denied allegations of an affair.) Hours later, the White House hosted Trump's National Day of Prayer event, which could not have come at a more ironic time.
As the president signed an executive order for a faith-based initiative at the event on Thursday, there was one notable absence. Melania Trump was apparently not at the national prayer event, a fact noted on Twitter by CNN's Abby Phillip and The Hill's Jordan Fabian, just as news coverage of her husband's alleged infidelity went into overdrive yet again. Elite Daily reached out to the first lady's communications director for comment on this, but did not hear back at time of publication.
The irony of the National Day of Prayer event coming hours after Giuliani's revelation was not lost on Twitter. On this day, the president said in an official proclamation, the country should "come together, all according to their faiths, to thank God for His many blessings and ask for His continued guidance and strength." Considering the timing, many on Twitter wondered about the Christianity of Trump's own alleged actions.
Meanwhile, the event itself was touched by the new allegations, with reporters apparently asking questions about them only to be shouted down on the basis of religious respect.
Giuliani, the former New York City mayor who not only revealed the Trump reimbursement during a Wednesday night, May 2, interview with Fox News' Sean Hannity, but also went back on the same network the next morning to speak about the same subject on Fox & Friends. In these interviews, Giuliani spoke to Trump's actions apparently being done for the sake of his family and Melania, in particular.
During the first interview, Giuliani, who recently joined Trump's legal team, became practically the first Trump ally to assert that the president not only reportedly knew about a $130,000 payment by the president's lawyer, Michael Cohen, in 2016 to adult film star Stormy Daniels in exchange for silence about an alleged affair, but was also involved with it — Giuliani told Hannity that Trump allegedly repaid Cohen the money. (In early April, Trump told reporters aboard Air Force One that he neither knew about the payment nor how Cohen paid for the payment.)
During Giuliani's second Fox News interview in a span of 12 hours, the former presidential candidate offered a new explanation for why Trump's payment to Cohen was justified. Giuliani told Fox & Friends,
If we had to defend this as not being a campaign contribution, I think we could do that. This was for personal reasons. This was the president had been hurt, personally, not politically, personally so much, and the first lady, by some of the false allegations, that one more false allegation — six years old — I think he was trying to help the family. For that, the man is being treated like some kind of villain. He was just being a good lawyer. And a good man.
In an interview with BuzzFeed News, Giuliani called Cohen's use of $130,000 "a payment to remove personal embarrassment to Melania," another example of using the argument that the payment was used to protect Trump's family.
Regardless of whether or not that was the actual reason for Cohen's nondisclosure agreement with Stormy Daniels — whose birth name is Stephanie Clifford — Giuliani does have an incentive to say that it was.
That's because campaign finance laws are worded in such a way that discourage unreported payments that affect elections, a fact that Twitter was reminded off by none other than George Conway, the husband of the counselor to the president, Kellyanne Conway. On Thursday, after Trump tweeted about the Cohen payment, George Conway tweeted what seemed to be a response, in the former of a screenshot of a page from the Federal Election Commission's website, detailing campaign finance rules.
"If any person, including a relative or friend of the candidate, gives or loans the candidate money 'for the purpose of influencing any election for federal office,' the funds are not considered personal funds of the candidate even if they are given to the candidate directly," the page says.
In the same interview that Giuliani claimed Cohen's payment was made for personal reasons, he also implied, though, that it wasn't.
"However, imagine if [Stormy Daniels' allegations] came out on October 15, 2016 in the middle of the last debate with Hillary Clinton," the former mayor said.
Hours later, President Trump hosted his national prayer event, without his wife in attendance.