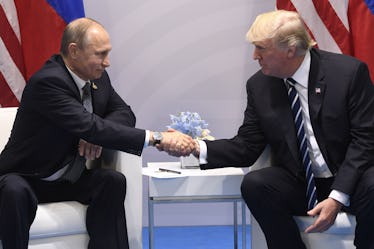 Trump Supporters Literally Don't Care About Possible Russia Collusion & This Poll Proves It
SAUL LOEB/AFP/Getty Images
When it comes to the Trump campaign's possible connections with Russia, the president's most ardent supporters just can't be bothered. According to a new poll from Public Policy Polling, a left-leaning firm, 79 percent of those who voted for Trump say he should continue in office even if the campaign did collude with the foreign power. In short, Trump supporters' response to Russian collusion is basically a big old, "IDGAF."
The poll reported that a whopping 75 percent of voters who backed Trump even believe the entire Russia story is "fake news" and just 7 percent of his backers believe that campaign operatives colluded with Russia. The poll was conducted from Oct. 27-29, after news broke that charges were coming out, but before former Trump campaign chairman Paul Manafort and his business associate Rick Gates were indicted earlier this week.
On Monday, Oct. 30, the first indictments came down in Special Counsel Robert Mueller's investigation into Russian interference in the 2016 election. Manafort and Gates received 12 charges, including conspiracy against the United States, conspiracy to launder money, and unregistered agent of a foreign principal.
The unsealed documents also pointed to another possible Russia connection. They revealed that earlier this month, George Papadopoulos, a campaign aide, pleaded guilty to lying to federal agents over his contact with Russian nationals during the presidential race.
But, Trump's most ardent supporters probably don't care.
According to Public Policy Polling, the president's devotees are lining up behind him. And, that could be because the administration and its allies are working hard to distance themselves from the Russia investigation by making it about — you know who — Hillary Clinton.
The poll found that the Trump administration and Fox News' efforts to focus on Clinton instead of Russia had an impact. Half of Trump voters who were polled think that Russia wanted Clinton to win the election, a 15 percent increase compared with polling in September.
Trump's efforts to make the investigation about anyone but himself came through in his response to the indictments on Twitter. In response to the Manfort and Gates's indictments, Trump tweeted about Tony Podesta (the brother of John Podesta, Clinton's former campaign chairman), who is also under investigation.
At a press briefing after the indictments, White House Press Secretary Sarah Huckabee Sanders claimed that it was actually the Clinton campaign that colluded with Russia. "There's clear evidence of the Clinton campaign colluding with Russian intelligence to spread disinformation and smear the President to influence the election," she said, according to a CNN report.
As with many a Sanders press briefing, she did not have evidence to back up her statements.
While it might seem unbelievable that Trump supporters couldn't give a damn about collusion, even with the indictments impending, it just about goes without saying that many others believe he should be impeached. The poll backs it up: 49 percent of voters do support impeaching Trump. On the president's character traits, it doesn't look so good, either — 52 percent say he's a liar.
The good news for them? The Oct. 30 indictments are likely just the beginning.
Though "Mueller Monday" didn't yield a smoking gun, as many progressives hoped, Papadopoulos's guilty plea may show that he's already flipped on the Trump circle. According to Wired, the plea deal he took came with a much shorter sentence than he would have faced if he didn't take it.
As for who's next? Leading up to the indictments, there was speculation that Mueller might be going for Michael Flynn, who stepped down as Trump's national security adviser in February over potentially illegal contact with Russian ambassador Sergey Kislyak.
Trump supporters might not "GAF" about charges, but you can bet that his administration is getting worried.