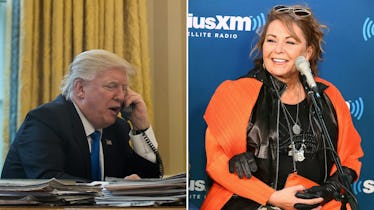 This Tweet Shows Everything Wrong With How Trump Responded to Parkland
Drew Angerer/Astrid Stawiarz/Getty Images
It's a time-honored tradition for the commander-in-chief to contact victims, loved ones, or first responders who have recently weathered a national tragedy. Such calls and written correspondences can often reassure a frightened public, but as with other logistical elements of the current administration, it's difficult to predict even the most reliable of protocols. President Donald Trump reportedly called Roseanne Barr on Wednesday, March 28, but had apparently not contacted a Parkland victim's family, according to multiple reports.
"We talked about a lot of things, he is just happy for me," Barr said in an interview on ABC's Good Morning America. "I have known him for many years and he has done a lot of nice things for me over the years, and it was just a friendly conversation about work and television and ratings."
After two decades off the air, Barr's ABC TV series Roseanne returned on March 28 to a staggering debut, after making headlines months earlier when it was announced that the show's lead character would be a Trump voter.
The fact that Trump called Barr is innocuous enough, but some were confused as to why the president didn't make the same effort for the family of 35-year-old Scott Beigel, who reportedly put himself in harm's way to save students during the Feb. 14 Parkland shooting. Elite Daily reached out to the White House to see if Beigel's family had been contacted, but did not hear back at time of publication.
TV writer Jess Dweck spelled that confusion out perfectly with a single tweet:
Michael Schulman and Linda Beigel Schulman, Beigel's parents, told New York Magazine that the Obamas sent them a handwritten letter earlier this month, but that they had not heard from the Trumps.
"I received nothing from the White House," Beigel Schulman told New York. "I got a beautiful letter from Marco Rubio. I've gotten letters from other congressmen. But no, nothing from the president." The Obamas wrote that Scott "seemed like an extraordinary man," per New York, and that they could "only imagine the hardship you are going through."
No press briefing was scheduled for Thursday, and the White House had not commented on the phone call as of press time. Trump gave a speech on his Infrastructure Initiative from Richfield, Ohio at 2 p.m. Trump did make calls to survivors of the Parkland shooting, and invited them to the White House last month for a "listening session."
Samantha Fuentes, a Marjory Stoneman Douglas High School student who was shot in both legs during the massacre, told The New York Times in February that she was "unimpressed" with the president's phone call to her. Fuentes told the Times that Trump had called the gunman a "sick puppy" and said "'oh boy, oh boy, oh boy,' like, seven times."
Other times — minus when he got into a fight with a military widow — Trump has reportedly consoled victims just fine, so it's possible Fuentes' call was just a fluke. In October 2017, Natasha De Alencar, whose husband was killed in Afghanistan, released audio of her own call with the Trump. She told The Washington Post it was exactly what her family needed at the time.
Following Trump's lead, conservatives fawn over 'Roseanne' reboot
Right-wing news outlets and blogs have a particularly contentious relationship with Hollywood these days. Celebrities are often shunned for using their platform to advance a given cause and lambasted for speaking out of turn by conservative pundits. Conservatives have flocked to the Roseanne reboot, however, hailing it as a marker of how Hollywood has finally depicted America accurately.
Fox News personality Greg Guteld said the show replaced "demonization" of conservatives with "dialogue," and called it "a sitcom without a sermon."
While conservative media outlets have fawned over the sitcom's return, a BuzzFeed review published Thursday noted that there are several reasons why black viewers might be turned off by the revival. Reporter Sylvia Obell explained that the playful caricatures of the political left and right (namely, between Roseanne and her sister, Jackie, a Clinton-supporter) don't ring true for people of color.
Whether or not the Roseanne reboot is good TV appears to be just as inconclusive as Trump is in speaking to victims in moments of crisis.