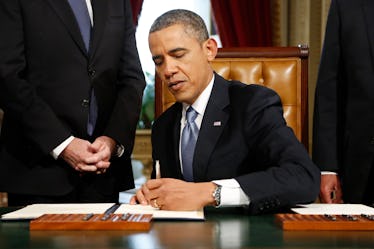 A Parkland Mom Was "Moved" By These Handwritten Words Sent From Barack Obama
Pool/Getty Images News/Getty Images
During the Feb. 14 shooting in Parkland, Florida, Scott Beigel lost his life while trying to save others'. While a shooter made his way through the halls of Marjory Stoneman Douglas High School, Beigel unlocked his classroom door to allow more students safety, but was killed before he could go back inside, according to multiple news accounts. Now, a month later, among the many who have been paying homage to Beigel is former President Barack Obama, who sent a moving letter to the parents of the Parkland victim.
"Your son seemed like an extraordinary young man, and Michelle and I grieve alongside you," the letter read, per New York Magazine Washington correspondent Olivia Nuzzi. "We can only imagine the hardship you are going through; hopefully all the wonderful memories can help ease the pain. We'll get the details about your fund in his honor. In the meantime, you are in our thoughts and prayers."
The 35-year-old Beigel was a geography teacher at Stoneman Douglas. According to one student's account, Beigel was shot and killed before he got a chance to re-lock the door to his classroom, where other students were hiding. However, the shooter never entered the room.
"He unlocked the door and let us in. I had thought he was behind me, but he wasn't," Kelsey Friend, one of Beigel's students, said in an interview with ABC's Good Morning America. "When he opened the door, he had to re-lock it so we could stay safe, but he didn't get the chance to."
"He was in the doorway and the door was still open and the shooter probably didn't know we were in there because he was lying on the floor," Friend later said. "If the shooter had come in the room, I probably wouldn't be [alive]."
Since the Feb. 14 shooting in Parkland, President Obama made both public and private displays of support for both the victims of the attack, and the pro-gun control movement birthed by a number of the students who survived it.
After the shooting at Stoneman Douglas, both President Obama and former First Lady Michelle Obama wrote a letter to the school's students. The letter, which was obtained by Mic, reads,
We wanted to let you know how inspired we have been by the resilience, resolve and solidarity that you have all shown in the wake of unspeakable tragedy. Not only have you supported and comforted each other, but you've helped awaken the conscience of the nation, and challenged decision-makers to make the safety of our children the country's top priority. Throughout our history, young people like you have led the way in making America better. There may be setbacks; you may sometimes feel like progress is too slow in coming. But we have no doubt you are going to make an enormous difference in the days and years to come, and we will be there for you.
A month later, President Obama praised the organizers of the March For Our Lives, which saw hundreds of thousands of people nationwide protest against gun violence.
"Michelle and I are so inspired by all the young people who made today's marches happen," Obama tweeted on Saturday, March 24. "Keep at it. You're leading us forward. Nothing can stand in the way of millions of voices calling for change."
On the same day as the march, Scott Beigel's mother, Linda, was in Washington D.C., the site of the March For Our Lives' main demonstration. There, she recalled her son's bravery.
"Scott is a hero. Scott was a hero way before February 14," Linda Beigel told New York Mag. "What Scott did — saving his students — doesn't surprise me. I'm proud of him. Obviously, I wish he wasn't murdered doing it, but I wouldn't expect anything less of Scott."
For that bravery he has been praised by Barack Obama and his former students, among others.