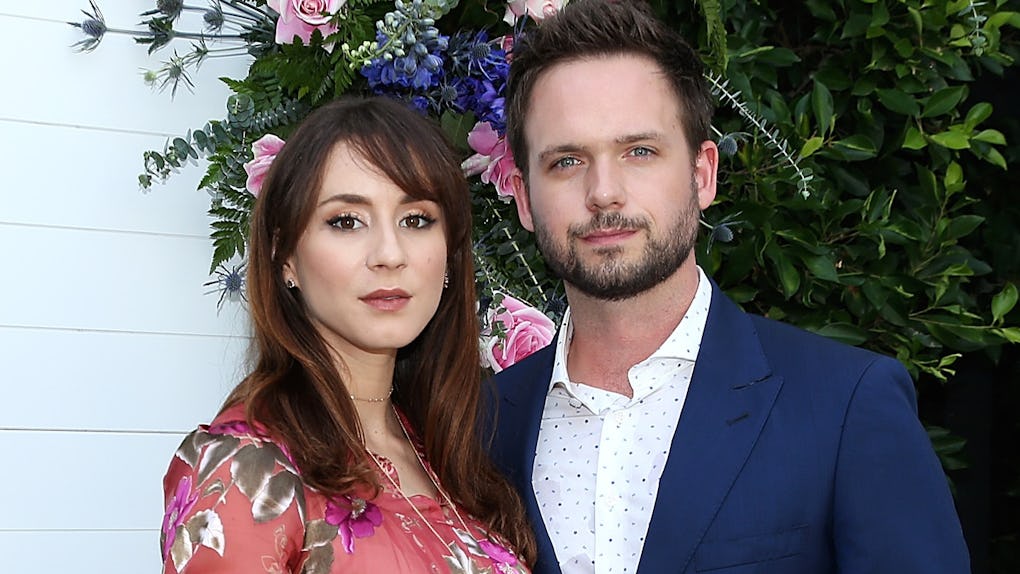 Phillip Faraone/Getty Images
Troian Bellisario Is Pregnant With Her First Child With Patrick J. Adams, Apparently
Love is in the air and babies are in the belly. Troian Bellisario is pregnant with her first child! According to E! News, the Pretty Little Liars actress and her husband, Suits star Patrick J. Adams, are expecting a baby little liar. Elite Daily reached out to Bellisario's team for comment on this report, but did not hear back by the time of publication.
Rumors that Bellisario was pregnant first started circulating in May when she and Adams were seen by photographers on vacation in Mykonos and she appeared to have what could be a small baby bump. Bellisario and Adams have kept a relatively low profile on social media over the last couple of months since. They post on the app frequently enough, but Bellisario notably doesn't post many pictures that show her entire body anymore.
It's possible she's been hiding her growing baby bump this whole time, or, you know, she just doesn't feel like posting photos showing her whole body. They posted lots of photos and videos from their Greece vacation (and the photos are incredible, obviously), but none of the shots show any hint of a bump.
Their photos from Mykonos were seriously amazing.
Just days before they jetted off to Greece, they were at Meghan Markle and Prince Harry's wedding on May 19.
Spencer, uh, I mean Troian, posted the above photo to her Instagram on May 19 saying,
Weddings are a joyous occasion. But today was just off the charts amazing. Congratulations Meghan and Harry. I am so grateful I got to witness your love today. There are many happy years to come. Also. Thank you so much @annabelleharron & @temperleylondon for making me feel so beautiful on such a momentous occasion. And last but definitely not least... thank you @halfadams for being your devastatingly handsome self and letting me come along for the ride.
As we all well know by now, Meghan Markle starred as Rachel Zane on Suits alongside Patrick J. Adams from 2011 to 2018. She officially ended her acting career in order to focus on her role as the Duchess of Sussex, so their characters Rachel Zane and Michael Ross tied the knot in the Season 7 finale and Markle and Adams will not be returning for Season 8. (Katherine Heigl has been cast as a series regular in their stead.)
Bellisario and Adams got engaged in 2014 and married in 2016. They called their wedding day "Fort Day."
It was a bit of an odd theme when you didn't know the context, but luckily, Bellisario explained the inspiration behind Fort Day in an Instagram post following her wedding. The post started off saying, "8 years ago we were two friends who has shared very little time together. We were tired and overworked and just wanted to have some peace and quiet. So he invited me over to his apartment where he had built us a pillow fort." She continued,
He stapled sheets and Christmas lights to the ceiling. We shut the door to the world outside. We didn't answer our phones. And over pancakes and movies. Long late night conversations and sleep. we got to know each other a little better. That was the first "Fort Day".
"Fort Day" became a yearly occurrence for the couple up until the ultimate Fort Day came — their wedding day. Her caption said,
Each year after that our fort got a little bigger until 3 years ago our fort was a brand new home. Our first that we bought together. And in the still and the quiet of that "fort day" he asked me to marry him. Well this year it wasn't about peace and quiet. Two days ago we decided to make the biggest fort we could dream of and we asked all our friends and family to come in it. Tents and talent shows. Food trucks and fires. Kids screamed 'I Iove fort day!' before jumping into the pool. I can't believe something small between friends could be accepted and embraced by so many people that mean so much to us. And what that said To me was that any of the tough times we've had making 8 years of long distance work was worth it. The pining. The missing. The quiet nights alone believing that it would be worth it. We were right to believe in us. And not only did we believe @halfadams but everyone around us did too. #fortday2016
Now it might be time to start making room for one more in that fort. Congrats, you fort-loving lovebirds!