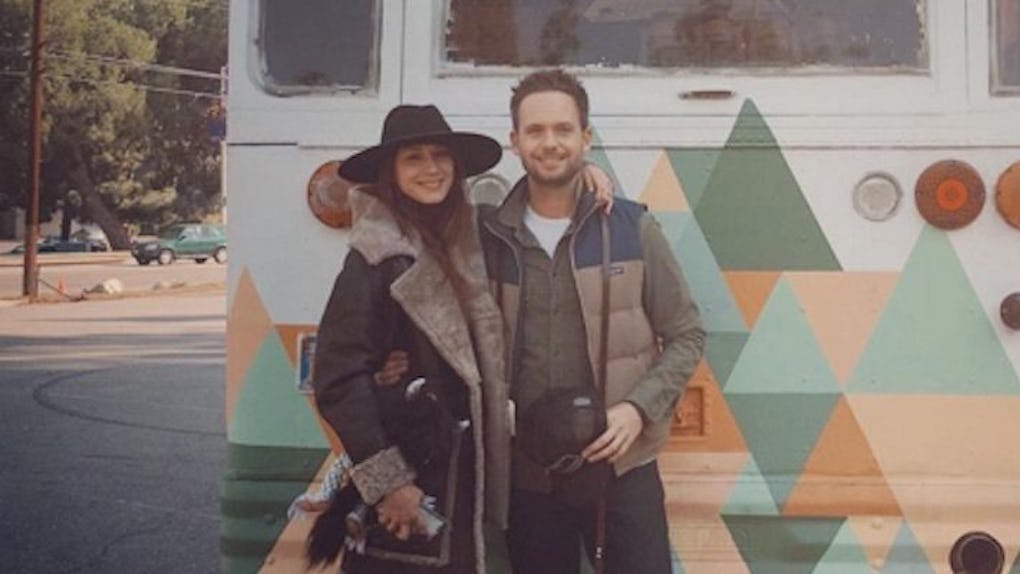 Instagram
Troian Bellisario Explains Inspiration For 'Fort Day' Wedding
This past weekend, Troian Bellisario, aka Spencer Hastings from "Pretty Little Liars," had a beautiful wedding with Patrick J. Adams, aka Mike Ross from "Suits."
Like I said, it was a beautiful ceremony, from the looks of the pictures. The kind of wedding only a couple of two successful TV shows could have.
But one thing I couldn't figure out when I first saw the photos was why every photo was tagged #fortday.
I mean, apparently that's what Troian and Patrick had named the wedding, and the entire event had a fort/camping theme... but like, why?
You have to admit, that's a pretty unusual wedding theme.
But thankfully, I don't have to ponder this mystery any longer, because on Monday Troian posted an explanation behind the theme to her Instagram.
The 31-year-old "Pretty Little Liars" star wrote,
8 years ago we were two friends who has shared very little time together. We were tired and overworked and just wanted to have some peace and quiet. So he invited me over to his apartment where he had built us a pillow fort. He stapled sheets and Christmas lights to the ceiling. We shut the door to the world outside. We didn't answer our phones. And over pancakes and movies. Long late night conversations and sleep. we got to know each other a little better. That was the first 'Fort Day'. Each year after that our fort got a little bigger until 3 years ago our fort was a brand new home. Our first that we bought together. And in the still and the quiet of that 'fort day' he asked me to marry him.
OK, great, makes sense. Could everyone just hold a second while I cry deeply?
THAT'S THE MOST ROMANTIC STORY I'VE EVER HEARD.
AND WAIT! THERE'S MORE!
Troian went on to explain this year's Fort Day was the biggest yet — because it was their wedding.
She wrote,
Two days ago we decided to make the biggest fort we could dream of and we asked all our friends and family to come in it. Tents and talent shows. Food trucks and fires. Kids screamed 'I Iove fort day!' before jumping into the pool. I can't believe something small between friends could be accepted and embraced by so many people that mean so much to us. And what that said To me was that any of the tough times we've had making 8 years of long distance work was worth it. The pining. The missing. The quiet nights alone believing that it would be worth it. We were right to believe in us. And not only did we believe @halfadams but everyone around us did too. #fortday2016
Cool cool cool, so my eyes will just never be dry again! I'm crying because this is beautiful and I'm lonely! Yay!
Congratulations to Troian and Patrick for getting to be in a loving, supportive partnership with their BFF for life. I'm definitely not bitter!
Citations: Troian Bellisario Explains the Hidden Meaning Behind Her Fort Day Wedding to Patrick J. Adams (E! News)