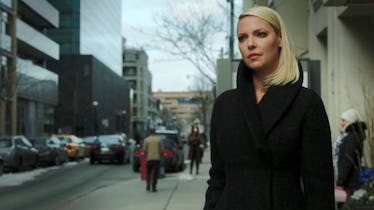 The 'Suits' Season 8 Teaser Is Here & Katherine Heigl Is A Far Way From Seattle Grace
USA Network
I'm still recovering from the influx of Hollywood stars at the royal wedding, but that pomp and circumstance is gone and now Suits is trying to convince me to move on soon. After filling in former star Meghan Markle's absence with the casting of Grey's Anatomy alumna Katherine Heigl, Suits is returning with a brand new season that's already vastly different from its predecessors. The Suits Season 8 teaser is here, and Heigl has definitely left her Seattle Grace scrubs far behind.
Playing new lawyer Samantha Wheeler, Heigl has been quite clear about her character being a force to reckon with at Specter Litt. When sharing her casting story with E! last month, she revealed that she even approached Suits creator Aaron Korsh about joining the series, saying:
My mom and I work together, and she sort of instigated it and said, 'You know, this show is so great.' And I have a couple of shows that I'm trying to develop, and we were like, 'Let's call the creator and see.' We didn't know at that point it was going to go into an eighth season. So when [Korsh] said, 'I'm going to be busy with the eighth season,' I was like, 'Really? Do you need anybody? 'Cause I'm available.'
In the weeks since Markle, now the Duchess of Sussex, married Prince Harry, Duke of Sussex, I've admittedly been watching old interviews of her promoting Suits on a loop. After all, when have we ever had this ability to learn so much about a royal via talk show appearances and funny magazine quizzes?
But after hearing about Heigl's love of the series and her dedication to working on it, I was willing to be open to the show's new, upcoming possibilities. Now that the new Season 8 teaser has debuted, I can't wait but get excited about which direction Heigl's character will take the story.
The 30-second promo suggests that Samantha doesn't exactly get off to a smooth start at her new job. She partners with Harvey (Gabriel Macht), who isn't thrilled about her working with his clients, and Louis Litt tells her that her reputation is rubbing people the wrong way. Sarah Rafferty's Donna is even willing to "do something" about Samantha. But for a split second, I'd like to imagine that this scene is actually Rafferty wondering how to tell Heigl that they're all ditching her to head to Windsor for Markle's big day. Just me?
Markle's Rachel left the law firm at the end of Season 7 to move to Seattle with her new husband Mike (Patrick J. Adams, who also left the series after last season). Now that the bromance between Harvey and Mike is no longer, Harvey will still have plenty to spar about with Samantha, according to Macht. In April, he told ET:
There are a lot of similarities between [Heigl's] character, Samantha Wheeler, and Harvey. As you'll see in the first couple of episodes, they go head to head. They're truly adversarial, but they sometimes mirror each other in their actions and their manipulative ways to accomplish what they need. There's something charming about that and exciting...[Heigl] gets the rhythm of the speech. She is really, really free with the material — spontaneous. She's just been nailing it.
After officially leaving Grey's Anatomy in 2010, Heigl was a series regular in two short-lived network dramas, but this is her first time joining the cast of an already thriving show. When speaking to Entertainment Weekly about the new role, she also hinted about Samantha's initial thorniness, saying of the character:
She's kind of having fun messing with everybody. They're just not having as much fun — yet. The fact that Donna can't quite put her finger on Samantha is really fun to play. Our first scene together was just like that — she's trying to figure out Samantha, and Samantha's not really giving much of anything away.
Compared to Grey's Anatomy's vulnerable Izzie Stevens, Samantha Wheeler sounds like a complex lawyer who is not here to play around. It may take some time to adjust to Suits without Markle and Adams, but Heigl will definitely add an interesting layer to the show.
Season 8 of Suits premieres on Wednesday, July 18, at 9 p.m. ET on USA Network.