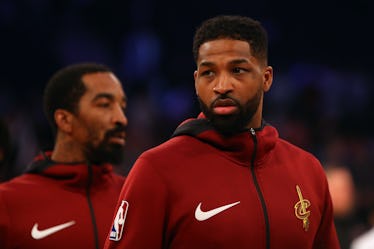 Tristan Thompson's First Appearance Since The Cheating Reports Is Way Too Normal
Mike Lawrie/Getty Images Sport/Getty Images
If you've been waiting to get a peek of Tristan Thompson over the past day since rumors first swirled that he'd cheated on Khloé Kardashian, I have good news for you. On April 11, he was spotted inside the Quicken Loans Arena in Cleveland, Ohio for the Cavaliers' game against the New York Knicks. The sighting is Tristan Thompson's first appearance since reports he cheated on Khloe Kardashian and let me just tell you: it is weirdly normal. I've tried to analyze his expressions at least eight times now to make out any clues of how he's feeling during this time.
I don't have any definite clues yet, but Thompson surely seems a bit distracted. By the middle of the second quarter of the game, he still hadn't scored any points, and had even missed a couple of shots. And it probably doesn't help when, according to Twitter users, there are fans reportedly booing him from the stands. Awkward.
If you've been scouring over the crowd to see if the mother of his child, Khloé Kardashian, is anywhere in the stands, you might as well stop. I've already checked, and she's not. Since she's so far along in her pregnancy (and is due any day now), she's reportedly been ordered by her doctor to stay in Ohio until she gives birth to her and Thompson's child. But she probably needs her space right now anyways.
Thompson's appearance comes just one day after The Daily Mail claimed that Thompson had cheated on his pregnant girlfriend on April 7 while he was in New York preparing for the game. According to the publication, Thompson and his teammates decided to visit PH-D Lounge, a rooftop bar, where he linked up with an unidentified woman. One club goer reportedly filmed the baller talking to the woman before leaning in to kiss her. (Yikes.)
The woman who taped the ordeal told The Daily Mail that Thompson and mystery woman were "talking and being around each other all night." She continued, "He was texting and talking on the phone and she was obviously looking over his shoulder. Everybody knew who he was. We talked about it and everybody watched them make out several times."
According to TMZ, at 5 a.m. the next morning, Thompson and the woman reportedly went back to the Four Seasons hotel, where the baller was staying with the rest of his teammates while they were in town for the game.
After the reports surfaced, TMZ also followed up by releasing new footage that reportedly showed Thompson in the company of three other women at a hookah bar back in October 2017. In the video, Thompson is allegedly shown flirting with the trio before he makes out with one of the women and motorboats another. Elite Daily reached out to representatives of both Thompson and Kardashian for comment on the reports, but did not receive a reply.
Man, this is unbelievable. I was really rooting for him.
Though Kardashian has been MIA since the allegations popped off, we can assume that she's still in Ohio, awaiting the birth of her and Tristan's first-born who's expected to arrive some time this month. In a message shared to her app on April 3, the reality star said that she was happily settling into Cleveland with her man and enjoying her time away from California. She explained:
Throughout my pregnancy, I traveled back and forth between L.A. and Cleveland quite a bit, but after a while, it was a little difficult. It was more tiring and my body got swollen, which never used to happen before pregnancy. I obviously love both cities, but I will say I'm happy to be in Cleveland right now.
She added,
...I'm with Tristan and I get my home time — cooking, being with my love, and just more of a routine. In L.A., I'm SWAMPED with work. But then again, I love being in L.A. because I get to see my sisters and my mom, and I have my trainer and the people that I've grown up with. So there are perks to both cities for me!
Hopefully she's somewhere relaxing (or trying her best to). At this point in her pregnancy, she definitely doesn't need to be all stressed out and out of wack. And as for Thompson, now that we've at least caught a glimpse of him, maybe he'll decide to open up and get this thing straightened out. We'll just have to wait and see, I guess.