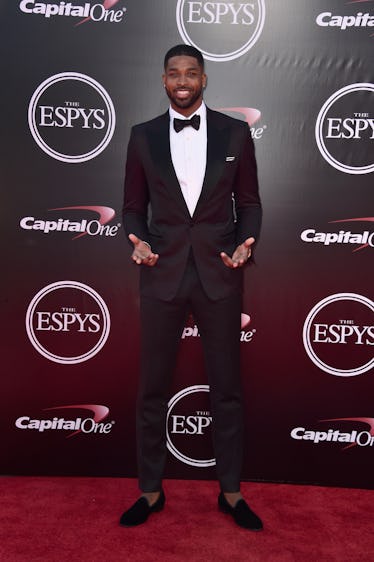 Tristan Thompson Was Awfully Quiet On Mother's Day, & I'm Worried
Alberto E. Rodriguez/Getty Images Entertainment/Getty Images
There's no day like Mother's Day to show all the special moms in your life just how much they mean to you. And that's exactly what Tristan Thompson didn't do for Khloé Kardashian. Thompson and Kardashian welcomed a baby daughter named True just last month, so it's pretty sad that Tristan Thompson didn't post a Mother's Day message for Khloé Kardashian. Like, really Thompson? How could you?
If you haven't kept up to speed with the latest Kardashian-Thompson news, here's why this is an important step for these two: just days before little True was born in April, Thompson was implicated in a cheating scandal that threatened his relationship with Kardashian. The new parents have apparently been reeling ever since, but they've taken steps to improve their relationship over the last several weeks.
So, given all of that personal drama, Mother's Day 2018 is kind of a big deal for Kardashian and Thompson. It's a big deal for them anyway, since it's Kardashian's very first Mother's Day, but it's especially poignant given all they've been through as a couple. If there was ever a time for Thompson to pull out all the stops to strengthen their relationship, Kardashian's first Mother's Day would be it. So you'd think that Thompson would go out of his way to make Mother's Day special for Kardashian. But, according to his social feeds (which we've scoured thoroughly) he did not — at least, not as of about 7:30 p.m. ET, which may I say is plenty of time in which to have tweeted out a quick, "Happy Mother's Day!" What gives, Thompson?
Now that the cheating scandal is seemingly a thing of the past, Kardashian and Thompson are apparently focusing on more important things like parenting and mending their relationship.
True is now a month old, and in telling fans about how excited she is to be a new mom, Kardashian revealed some bits about her relationship with Thompson. In a post to her personal app, Kardashian explained that little True loves to cuddle with both mom and dad:
Baby True is going to be a month old on Thursday! So far, she's so incredibly sweet and patient — really not fussy at all. I can tell she's going to be super athletic and incredibly strong! She's very calm, peaceful and loves to cuddle with her parents.
So, clearly, Kardashian and Thompson are both giving their all as parents and it's really paying off since True loves to cuddle with each of them! So sweet!
In addition to daughter True, Thompson also has a child with his ex-girl Jordan Craig. Their son, Prince Oliver, was born in December 2016. Sadly, Thompson's relationship with Craig didn't last beyond the pregnancy and he moved on with Kardashian just before Prince was born.
But moving on doesn't necessarily mean Thompson's out of the picture completely. The point is that he's a dad of two now and, if his relationship with True serves as an example of his parenting skills, then he's doing a great job so far.
Plus, he seems to be doing right by Kardashian at the moment and giving her the space she needs to bounce back from her pregnancy.
Kardashian is reportedly trying to get her pre-baby body back ASAP. In a May 10 Snapchat, Kardashian explained that she's struggling to get back into her workout routine:
It is a struggle getting back into the groove of working out. Mentally, I'm strong. But physically, it's just not the same. My body is not doing what my mind is telling it to do.
Sounds like she just needs to work her way into it! She'll get there eventually. Hopefully, in the meantime, Kardashian can relax and enjoy her very first Mother's Day with baby True... even if Thompson dropped the ball.