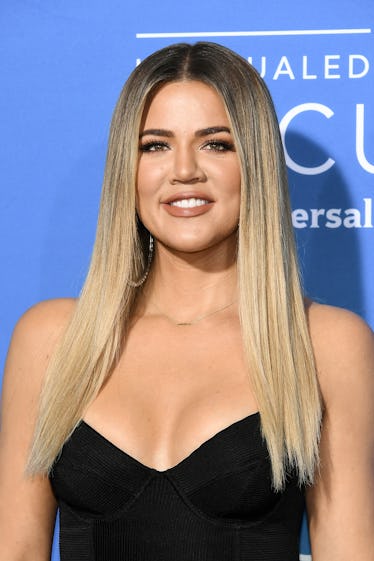 Khloé K Gave A Tiny Clue About Her Relationship With Tristan Thompson In Her Baby Update
Dia Dipasupil/Getty Images Entertainment/Getty Images
Khloé Kardashian is celebrating a special occasion today: Baby True is one month old! Time flies, right? Kardashian took to her personal app to mark the special day. In a short and sweet post about little True, Kardashian actually revealed a few clues about what her life is like now, including her relationship. So, what was Khloé Kardashian's clue about her relationship with Tristan Thompson? It's a really sweet one!
In her post, Kardashian revealed that True absolutely loves to cuddle with both mom and dad. And this little revelation is enough for the world to know Kardashian and Thompson are still going strong as co-parents and otherwise. Here's what Kardashian had to say about True's one month birthday:
Baby True is going to be a month old on Thursday! So far, she's so incredibly sweet and patient—really not fussy at all. I can tell she's going to be super athletic and incredibly strong! She's very calm, peaceful and loves to cuddle with her parents.
The reality star also took to Twitter to express her excitement (and maybe even disbelief) that Baby True's already a month old:
It's wild how quickly the time passes, especially when there's been so much scandal surrounding True's parents.
But Kardashian is absolutely not letting any rumors, scandals, or bad news get her down. She's 100 percent focused on herself and her baby. In fact, she's been working overtime to get her body back in shape.
The urge to get right back into shape comes from post-baby paparazzi photos that Kardashian wasn't particularly happy with. In a Tuesday, May 8 post to her app, Kardashian expressed how pumped she is to get back into a workout routine:
When I saw myself in those first post-pregnancy paparazzi photos, I couldn't believe how big my booty looked! I can't wait to tone up again and get my body back to where it was.
Unfortunately for Kardashian, though, things just aren't bouncing back as quickly as she'd hoped and she's being super real about it. In a Snapchat from Thursday, May 10, Kardashian talked a little about her workout struggles:
Baby True is a month old today, so it's a big day for the both of us … It is a struggle getting back into the groove of working out. Mentally, I'm strong. But physically, it's just not the same. My body is not doing what my mind is telling it to do.
I'm sure a lot of new moms go through this, so Kardashian's certainly not alone! Her body's been through one heck of a journey and it's seriously amazing. But at least she's giving herself space to bounce back in a way that's best for her!
Kardashian also went about it in a really healthy way, too, by checking in with her doctor to make sure all is good to get back to the gym:
I'm super excited because my doctor finally cleared me this week to work out and I'm going to meet with Coach Joe! I've literally been counting down the days.
Kardashian gave birth to her daughter True Thompson on April 12, 2018 just outside Cleveland. Proud dad Tristan Thompson was on hand for the birth, as was Kardashian's mom, Kris Jenner. The birth came at quite a tumultuous time for Kardashian since Thompson had been implicated in a cheating scandal just a few days before. Elite Daily reached out to Thompson and Kardashian's teams regarding the cheating reports but did not hear back by the time of publication. But all that's in the past.
Now, Kardashian and Thompson can focus all their energy on their relationship and their little daughter.