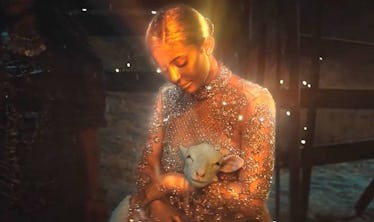 Kylie Jenner Stars In Travis Scott's "Stop Trying To Be God" Video As A Golden Virgin Mary
YouTube
Travis Scott dropped his latest album ASTROWORLD on Friday, Aug. 3. He released the album's first music video on Monday, Aug. 6, and it stars a special lil' someone. Travis Scott's "STOP TRYING TO BE GOD" music video with Kylie Jenner is as trippy an experience as you could have. It starts and ends with talking sheep, Scott rides some kind of Griffin (dragon? I honestly don't know) that breathes fire, and Kylie Jenner appears twice as a modern day Virgin Mary. Yes, a golden Virgin Mary.
The song and video start out with the chorus that goes, "Stop tryna be God / That's not who you are / Stop tryna Be God / That's just not your job / Stop tryna be God, God." Scott raps the first verse as he walks through a neighborhood that starts out looking peaceful, and then the shot turns upside-down to reveal an apocalyptic-like scene where people are running away from a huge fire. Scott doesn't run, though, and he ends up being engulfed in flames. Dark stuff! But don't worry, Scott appears lying in Jenner's arms as soon as the dust settles.
Kylie Jenner looks like she dove into a pool of Kim K's Ultralight Beams or a pool of her own glitter eyeshadow. Girl, this highlight is stunninggggg!
Scott acts like he's Moses afterward and then starts baptizing a bunch of people in a lake right by a waterslide. (Gotta remind the people that they're in ASTROWORLD, after all.) The people who are already baptized have adopted Scott's hairstyle and start dancing to the music while the others patiently wait in line to be baptized by their rap "god."
That's when Scott starts riding around on some kind of flying creature that spits fire all over the city he's in. The actual God in this video appears in the sky and looks down on Scott like, "Hey! Stop trying to be me!" It's honestly kind of funny. Then God gets angry and shoots red laser beams from his eyes and directly into Scott's head. That doesn't bode well for him. The next thing you see is what appears to be Scott's grave, then it pans to a manger? Like, an actual manger? With Virgin Mary Kylie Jenner appearing again, this time more sparkly and holding a lamb.
Kylie had a little lamb.
There aren't any references to Kylie Jenner in the actual "STOP TRYING TO BE GOD" lyrics as far as I can tell, but the song's first verse goes,
Ride for it every night / Visions and these angles tight / Truth be told, I never try / Diamonds are the wife of life / All three Rollies look alike / After two you get a hook-up price / Stripper never worked a nine-to-five / Delta and I ship it overnight / Stop tryna be God Almighty / F*ck the money, never leave your people behind, yeah / It's never love, no matter what you try / Still can see it comin' down your eyes / 'Cause they did not create commandments (ooh-ooh) / When you hustle, always make it fancy (ooh-ooh) / The signal's far from what you can be (ooh-ooh) / 'Cause air traffic controls the landing, yeah yeah yeah yeah
The song and video together feel like Scott is trying to say (to himself and other rappers) that it doesn't matter how famous he gets and how important he feels, he's not God. I literally have no idea what Virgin Mary Kylie Jenner is supposed to mean.