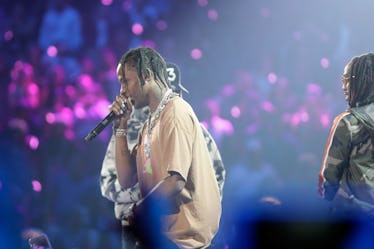 Travis Scott Made His First Public Appearance As A New Dad & He Looks So Happy
Isaac Brekken/Getty Images Entertainment/Getty Images
Since Kylie Jenner and Travis Scott welcomed their adorable daughter earlier this month, the "Antidote" rapper has been MIA from the public eye. Perhaps Scott has been experimenting with the stay-at-home dad life or maybe he's been hiding under our eyes the entire time, but either way, we finally have a glimpse of what the "Butterfly Effect" rapper has been up to. While attending a basketball game, Travis Scott's first appearance since Kylie Jenner gave birth, the rapper looked like he was having a blast.
On Friday, Feb. 9, Scott was spotted at the Toyota Center in Houston, Texas, watching the Houston Rockets compete against the Denver Nuggets, according to People. The publication noted that he even stepped on the court to shoot a free throw, dazzled in platinum jewelry and rocking his signature plaits. The appearance was Scott's first since welcoming his daughter, Stormi, with the lip kit mogul.
The next day, on Feb. 10, Scott was honored with the key to his hometown, Missouri City, Texas, by Mayor Allen Owen, who officially labeled the day as Travis Scott Day.
When giving his acceptance speech, the rapper said he owed "everything to this city." He said,
This place right here gave me all my ideas. It's the drive and focus of what I'm doing now. Music, design, whatever I'm doing. I owe everything to this city... This is my first award. I cannot be more proud to get my award in my hometown… This is everything I fight for, this is everything I cry about every night… just for a moment like this.
Whew. Imagine what kind of state he was in when he welcomed his daughter.
Meanwhile, Jenner has made two public appearances.
On Saturday, Feb. 10, Jenner was photographed out in Calabasas with her BFF Jordyn Woods, according to TMZ. The site reported that the duo was on their way to a meeting in Los Angeles, California. The reality star wore a white jacket, black shorts, and a black fanny pack, accompanied by a pair of unreleased Air Jordan 4s, which many suspected was a hint at a collaboration between the brand and her boo. (Yesss, stan for your man, Kylie!)
The following day, Feb. 11, Jenner graced us with her presence again, donning a red Adidas track suit with a pair of high-top white sneakers in a photo posted to her Instagram page. And if you ever forgot about Jenner while she was on her social media hiatus during her pregnancy, she's been proving to us that her Instagram reign is nowhere near over — she even snapped an effortless photo on the site to prove so.
SLAY, MAMA!
When speaking about the new parents, a source told People that both are doing great and are amazing with Stormi. The insider reportedly said,
Kylie is doing great. She has left her baby at home a couple of times for short outings. She is very happy and looks great, too. Things with Travis are the same. He is great with the baby when he is around.
It's good to know they adjusted to parenthood so quickly, seeing as though Jenner just gave birth (and announced her pregnancy, for that matter).
On Feb. 4, Jenner announced that she and Scott had welcomed a baby girl through a statement posted to her Instagram account. Part of her message read,
I'm sorry for keeping you in the dark through all the assumptions. I understand you're used to me bringing you along on all my journeys. My pregnancy was one I chose not to do in front of the world. I knew for myself I needed to prepare for this role of a lifetime in the most positive, stress free, and healthy way I knew how. There was no gotcha moment, no big paid reveal I had planned. I knew my baby would feel every stress and every emotion so I chose to do it this way for my little life and our happiness.
I'm happy to see the couple out and about and enjoying their lives like nothing's changed. But hopefully next time, we'll get a peek of the trio all together. Wishful thinking.