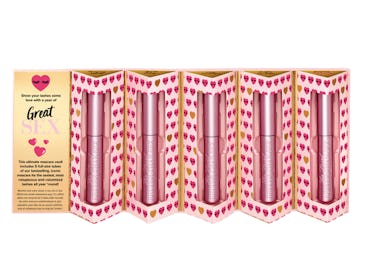 Too Faced's Holiday Lineup Includes "A Year Of Great Sex" & Yep, It's Worth Skipping Halloween
Too Faced
I have a feeling you're gonna feel naughty (and not nice) after dipping your brush into any of the new items from Too Faced's 2018 Holiday Collection — everything is just too cute to touch. From swans wearing bows, to peaches with blushing smiles, to gingerbread ladies with hair bows, the new collection doesn't stray far from Too Faced's signature charm. In true Too Faced fashion, their newest holiday collection is as pink as it gets, but with hints of a kitschy, wintery wonderland on every product. Throw in just the right amount of puns (holiday and otherwise) and you've got the recipe for a blockbuster holiday lineup.
I know, I know — it's only September, and you've only just begun daydreaming about pumpkin-spiced lattes, boozy apple cider, and crisp apple pies on the reg. But hear me out when I say the foodie-inspired Too Faced holiday collection is worth overlooking basic PSLs for sweeter holiday scents at the moment. With smells similar to fruit cakes, gingerbread, and sugar cookies, the new holiday collection is a feast for your eyes (and nose), and is guaranteed to be on everyone's Christmas wishlist this year. See below for the ones you'll definitely find on mine (just gotta figure out how to get on that nice list this year).
Christmas Tree Breakaway Makeup Palette & Mascara ($49; toofaced.com)
I'm obsessed with this palette for many reasons. First, that it comes with arguably the best mascara there ever was, Better Than Sex Mascara ($24; sephora.com). Second, the colors in the palette are very wearable and nothing too crazy. Third, I love that the palette breaks apart from each other, so you can take whichever mini palette you need on-the-go, or bring all of them with you if you're feelin' real extra. I travel often to visit my boyfriend in Boston, and being able to pick and choose smaller items (rather than lugging around a giant palette) is always a major plus.
Melted Matte Limited Edition Lipstick in Gingerbread Girl ($21; toofaced.com)
Who said gingerbread has to be masculine? Enter Too Faced's Melted Matte Limited Edition Lipstick in Gingerbread Girl. Gingerbread Girl is a rich orangey brown hue, and if it tastes anything like a gingerbread cookie, I'm honestly worried that I'm going to attempt to bite this baby right off my lips. Not only am I excited about the scent, but I also think the shade will compliment a wide range of skin tones.
Christmas Dreams 5 Piece Brush Set ($49; toofaced.com)
I'm a true sucker for makeup brushes, and I can't wait to add this set into my already massive collection. The bristles are super-soft and cruelty-free, and the handle design features pretty stars across a pink sky. This is a perfect primer set for anyone just starting out with makeup (or even an expert), since these brushes can be used in a multitude of ways.
Sugar Cookie Limited Edition Eye Shadow Palette ($26; toofaced.com)
Christmas Cookies: Eyeshadow Edition! These eight shades seriously remind me of delicious sugar cookies, and they smell fresh-out-of-the-oven, too. The palette has just the right amount of dark and light shades, as well as matte and shimmer shades for an eye look good enough to eat.
Dream Queen Limited Edition Makeup Collection ($58; sephora.com)
Are you swanning, I mean swooning, over this palette as much as I am? The swans are giving off extra-Wonderland vibes, and I want to dive right into this enormous palette ASAP (although it's pretty big and does intimidate me a little bit, TBH). This baby comes with 24 eye shadows and 4 face products, as well as the Deluxe Better Than Sex Mascara, Dreamy Lips Ultra Plush Lip Gloss in Pink Swan, and a TSA-approved Hangover 3-in-1 Spray.
A Year Of Great Sex ($69; toofaced.com)
Who wouldn't want a A Year Of Great Sex? For merely $69 (tee-hee), you can snag five full-sized tubes of Better Than Sex mascara, otherwise known as the best mascara of all time. Yes, this is real, and yes, it is unfortunately currently sold out.
Don't mind me, I'm just seeing if acting really, really nice could translate into restock.