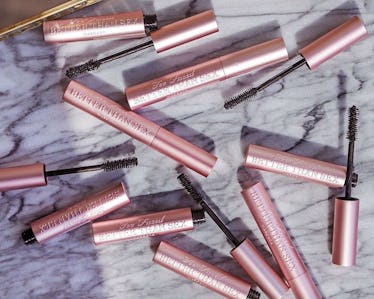 Too Faced Better Than Sex Mascara Is Half Off At Ulta & That Actually Is Better Than Sex
toofaced on Instagram
If you haven't tried my favorite Too Faced Better Than Sex Mascara, you've truly been living under a rock. Not only is it wildly popular with editors and beauty bloggers, it's actually the number one best-selling prestige mascara in America. And it really is no wonder why, because Better Than Sex Mascara makes your lashes look so, so good — hence the name. *Wink wink.*
The Too Faced website describes their pride and joy as, "a mascara so amazing, it's Better Than Sex! This formula thickens, lengthens, and curls after just one coat for the most luscious, dramatic, and volumized lashes possible. The #1-selling prestige mascara in America, Better Than Sex, gives you mind-blowing lashes, every time!" It also adds that the forming polymers wrap around your individual lashes, which is how it gives you longer, thicker lashes that remain smudge-proof all day.
What's more: the hourglass shape lifts and volumizes lashes every time. At a brunch with Jerrod Blandino, co-founder & chief creative officer of Too Faced Cosmetics, he mentioned that the shape of the brush was inspired by Marilyn Monroe's curvy figure. If that doesn't further add to the sex appeal of this suggestive mascara, I can't think of what will.
On any normal day, Too Faced's Better Than Sex Mascara will cost you $23, which can feel pretty steep for a product you compulsively apply and run through in a matter of weeks. Luckily for you, Ulta's 21 days of beauty sale has been especially epic this year, and naturally, it's ending with a bang.
April 7 is the last day of the deals, and while I've been scoring items on the cheap all month, this is the only day you can snag Too Faced's Better Than Sex Mascara for only $11.50. That's less than most lunches, trendy matcha lattes, and definitely cheaper than expensive eyelash extensions. Do you feel all tingly yet?
Other products we found at the Ulta 21 days of beauty sale included the Too Faced Melted Matte Liquified Long Wear Lipstick; SALE: $10, Regularly: $21, Tarte Tarteist Quick Dry Matte Lip Paint; Sale: $10, Regularly: $20, Urban Decay Eyeshadow Primer Potion; Sale: $11, Regularly: $22, Anastasia Beverly Hills Brow Wiz Pencil; Sale: $10.50, Regularly: $21, and Benefit Cosmetics Rollerlash Super Curling & Lifiting Mascara; Sale: $12, Regularly: $24. So needless to say, even if mascara isn't your jab, you don't want to miss the conclusion of Ulta's benevolence.
If you haven't had the chance to get your hands on any of the sales yet, set a reminder on your phone to catch the last one before the whole sale is over.
But back to Better Than Sex. If you do happen to be that person living under a rock that hasn't tried the number one best-selling prestige mascara in America, don't take it from us, take it from the people of Twitter who stay singing its praises. Kimberly Assarian dubs it her favorite, while Tai Cameron says, "this #BetterThanSexMascara is something else! It makes my lashes look so long!" They're not alone either! Audrionna Addington boasts her super long lashes with the caption, "look at them Too Faced- Better Than Sex mascara'd up lashesssss babes! Those are some seriously sassy lashes guys!" Lastly, Kayla made me laugh with her tweet, "anyone who says @TooFaced#betterthansexmascara is not the best can fight me!"
There you have it, Too Faced's Better Than Sex Mascara is ah-mazing. Whether you've never tried it before, or you keep it on repeat, don't forget to get your hands on it this Saturday for half off the original price when you get it at Ulta — you know shopping for makeup is your weekend ritual anyways. If you ask me, getting your favorite makeup staples on the cheap, actually is better than sex.