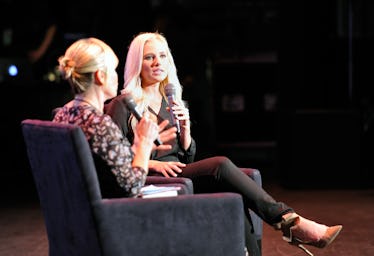 Tomi Lahren's Bizarre Tweet About Trump Hugging The Flag Is So Cringeworthy
John Sciulli/Getty Images Entertainment/Getty Images
A political commentator whose only experience in politics is offering her unqualified opinion weighed in on a picture of the president practically groping the American flag — and it made a whole lot of people cringe. Fox News commentator Tomi Lahren tweeted about Donald Trump hugging the flag on Oct. 17, posting two photos of POTUS pressing his face into the stars and stripes with the quote: "find someone who treats you like Trump treats America." Below, she included the ever-original "#RelationshipGoals."
There are a few different elements to Lahren's post that are, well, bizarre. If you want to talk about "how Trump treats America," in the nine months since taking office the president and his administration have tried to take away healthcare from millions, pushed to isolate the United States with an "America first" motto, and regularly freaked everyone out about nuclear war with North Korea. Not to mention, that little investigation into whether his campaign colluded with Russia during the 2016 election.
Quite the #relationship to have #goals about.
Then, there are the photos, apparently taken at a 2016 rally in Florida, in which Trump is grabbing at the flag and nearly laying a kiss on it. While it's strange to hug a flag in the first place, the photos are especially creepy given the accusations of sexual harassment and assault against the president. Over a dozen women have accused the president of misconduct over the past three decades, and he was recently subpoenaed by one, Summer Zervos, as part of a defamation lawsuit. (Trump called Zervos' accusations "fake news.")
Of course, conversations about sexual misconduct have been front and center on social media since the news emerged that Harvey Weinstein allegedly sexually harassed and/or assaulted over two dozen women. So in that context, it's an unsettling choice to post an image of the president apparently forcing himself on an inanimate object.
Many responded to Lahren's tweet with confusion and disgust, saying that Trump was actually disrespecting the flag by grabbing it. (The president has lauded those who stand for the national anthem and American flag, and derided those who don't.) Though, he wasn't doing either of those in the photos posted by Lahren.
Lahren's tweet wasn't exactly a departure from her other inflammatory statements.
At 24 years old, Lahren is a prominent media personality on the right. Before joining Fox, Lahren was a commentator on Glenn Beck's network, The Blaze. Lahren regularly condemns political correctness and gun control in her commentary. At a political conference in July, she debated comedian Chelsea Handler. And it's hard to forget how Lahren said the Black Lives Matter was the "new KKK" in an appearance on The Daily Show.
Even though Lahren is technically a millennial, she breaks with her peers on more than just her political views: she once came hard for the queen, Beyoncé. In a segment about Beyoncé's performance at the 2016 Super Bowl, Lahren said the singer was "perpetuating the great battle of the races."
When it comes to the flag, the president recently went after football teams for refusing to require players to stand during the national anthem, saying it was disrespectful. In recent weeks, players have knelt during The Star-Spangled Banner, inspired by former San Francisco 49ers quarterback Colin Kaepernick, who knelt to protest police brutality and racism.
Lahren too has been critical of NFL players who've protested, though she apparently doesn't know why they're doing it.
In an appearance on Fox News on Oct. 18, Lahren asked why, precisely, the players were protesting. "I would like to ask these players: what exactly are you kneeling for?"
According to NFL.com, Kaepernick began taking a knee during the anthem to bring attention the police killings of unarmed black people, and in protest of honoring a nation that has historically oppressed people of color. In 2016, he told the website:
"I am not going to stand up to show pride in a flag for a country that oppresses black people and people of color ... To me, this is bigger than football and it would be selfish on my part to look the other way. There are bodies in the street and people getting paid leave and getting away with murder."
It is curious that Lahren would appear on a show to talk about a topic she didn't know about, even though several NFL players have spoken about it. But, pro tip, Tomi: it's funny what a Google search can teach you.